by Ben Daniels (Admin) on Sep.25, 2019, under CMNM
We continue our story about the rough and tough Richard, who has applied for a very demanding job –  he wants to become a debt collector officer. He is a very confident macho dude and he's aware of the fact that he should never show any nervousness or sweating, as those could be understood as a sign of weakness.
He is currently being inspected by this extremely bullish, pervy and assertive officer whose actions border on humiliation. But Richard has decided to take it all in good cheer and refuse to show his disdain for the whole thing. And just when he thought things couldn't possibly get any worse, another debt officer enters the room and starts casually watching the spectacle, laughing mysteriously at his predicament, as if it were some regular everyday occurrence!
The pervy officer grabs Richard's balls and soft cock to see if they are in good condition. He orders Richard to bend over so he can inspect his big muscular arse as well. Then a brand new jockstrap is given to Richard which he must try on and see how it fits.
Check out these pervy men's wanton adventures in their whole videos in HD quality at CMNM.
Clothed Male / Naked Male (CMNM) is a hot porn site where Nervous straight guys get stripped naked, groped and violated by fully clothed men.
There's nothing better than stripping straight lads completely nude, putting their bodies on display, and teaching them exactly how to submit! When they are in such a submissive position, one would be crazy not to use the opportunity and jerk them off.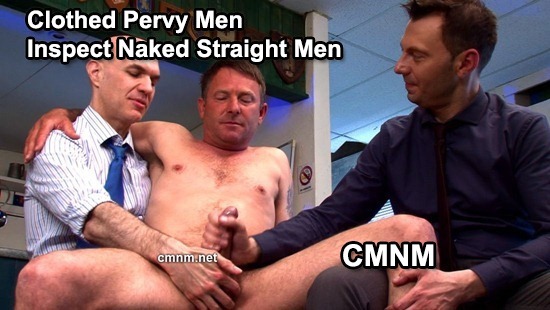 :beard, Clothed Men, debt collectors, groping balls, hairy chest, inspected, jockstraps, muscled, naked men, police uniform, Richard