We've already seen young cute banker Aleksandr on several occasions (check him out here and here). He arrived in Paris on a business trip and luckily he ran into the guys from Keumgay who managed to talk him into modeling for their site. Aleksandr doesn't really want to leave his job and become a porn star, but he was eager to try something new. This is the first time we get to see how his first gay blowjob actually came about.
The Keumgay director first met Aleksandr in a local gym in Paris, and after some conversation about the porn business, Aleksandr became interested and said he would like to see how a typical porn movie is made. He was eager to become a temporary model and experience the whole process first hand.
Aleksandr didn't quite like the idea that an older guy would be touching his body, but the other guy (masseur) managed to talk Aleksandr into actually giving it a try because, as he put it, "it's no big deal anyway'. This calmed Aleksandr down and reassured him that everything would be fine.
Aleksandr removes his office suit to reveal a very nicely toned, muscular body, as well as his huge fat dick! The director and the masseur were both extremely happy to have this big-dicked cutie in their studio and both of them wanted to be the first to give him a helping hand. From all this attention, Aleksandr felt like his body was being truly appreciated for the first time in his life, and his dick responded by becoming rock hard within seconds! He definitely loved the handjob part, and this encouraged him to go one step further and let the director suck his cock as well. Both the director and masseur were eager to get a taste of that big thick cock and satisfy this amazing young stud.
Aleksandr was expertly serviced by these two men and there was also quite a bit of sensual massage, which all had the effect of making Aleksandr turned on more than he had anticipated. Eventually, the men stroke his dick until he shoots a nice big load all over himself. Nothing better than seeing an inexperienced hot straight guy getting his first gay blowjob and feeling absolutely blown away by it!
Preview video: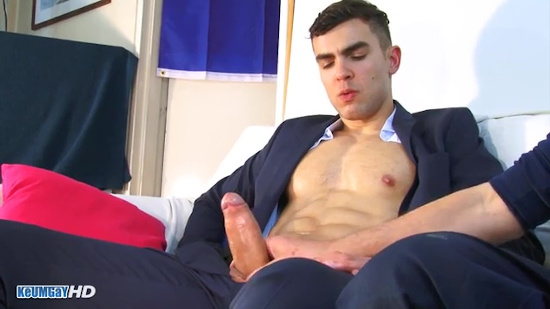 Click here to watch or download his entire video in HD quality at Keumgay.