We've already seen this superhot young stud a few days ago (check him out here as Carlos). And today he appears again on Beefcakehunter where he actually gets his very first blowjob from another guy!
Josue is a tall, serious, beefy and very muscular straight dude. He is only 22 years old, his height is 6'3" (190,5 cm) and he weighs in at 212 lbs (96 kg). In the beginning, Josue was just as nervous and shy as in his previous appearance on Theguysite, but as the interview went on Victor managed to get some smiles from him.
Josue is of Latino descent, and he has a very nice muscular chest, huge arms and very muscular hairy legs. His entire crotch is covered with thick black hair. Josue saved his load for about two days, and he was pretty horny, but it was difficult for him to relax, not least because he had never been sucked off by another man. Victor thought that this big fella needed a special approach, so he started off by slowly long-licking his big balls and then switched to Josue's cock. Josue's breathing became more heavy, and he was obviously loving the sensations on his cock in Victor's warm mouth. He was still nervous as hell, though, and it was a challenge to get him into "the zone" where he could relax and enjoy the ride fully. Josue said that using hands on his cock would be a good idea, too, and Victor listened to the advice. Actually, it made all the difference, and Josue became more laid back when Victor started using his hands!
Once we had that big "lift off" with the blowjob, you can see how gorgeous Josue's cock is – it's somewhat curved down and has a very nice head. Josue was often checking out how Victor was sucking his cock. He wasn't particularly vocal, but we could head some moaning. Josue is one of those guys whose eyes tend to roll in their heads while he's getting a blowjob, so check that out!
When he was somewhere in the middle of the blowjob, Victor tried to stop using his hands, but a couple minutes later Josue asked him to use his hands again. After some more time it became apparent that Josue was approaching the point of no return, and at the very end of the blowjob Victor decided to jerk him off and Josue shot his load straight into his mouth!
Preview video: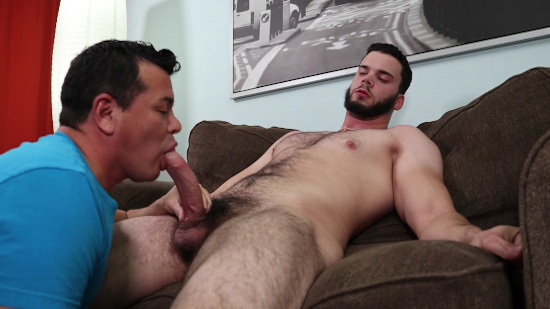 Click here to watch or download his entire video in HD quality at BeefCakeHunter.