Our hot ex-military stud Coby is back for yet another fun session (check out his previous appearance here). And he looks better than ever – pure fucking hotness! Coby definitely digs Rob's cocksucking skills and wanted to enjoy some more. Rob is a pretty dominant dude and Coby acted as if he was the submissive guy in this story. He was just unaccustomed to getting his dick blown by a dude, although he's getting used to the idea! Rob did his job masterfully and brought about an earth-shattering orgasm to Coby.
The video starts with Coby lying on the bed, with his legs spread apart. Rob sits down near Coby's feet and begins to massage his feet. Rob loves the scent of men's feet and Coby's feet make his dick twitch in no time. Rob pays due attention to Coby's toes and sucks them all, one by one.
Then, Rob moves to his next mission, which is – to take care of Coby's cock! It didn't take Rob much time to wake up Coby's sleeping snake, and within a few seconds his cock was fully hard. Of course, Rob is in his element when he's sucking a cock, and this time was no different. He sucked Coby's dick like there's no tomorrow, and Coby was continuously on the very edge of orgasm.
To postpone the inevitable cum-explosion, Rob proposed to Coby to lift his legs and put them behind his head, so that he could eat his ass. Coby tried to retain the stoic expressionless face, but his eyes gave him away – this boy was on the very verge of cumming. Moments later, Coby gave Rob a sign that he was about to cum, and cum he did. Rob kept sucking Coby's cock like there's no tomorrow, and finally Coby rewarded him with a nice cumshot delivered straight into his mouth!
Preview video: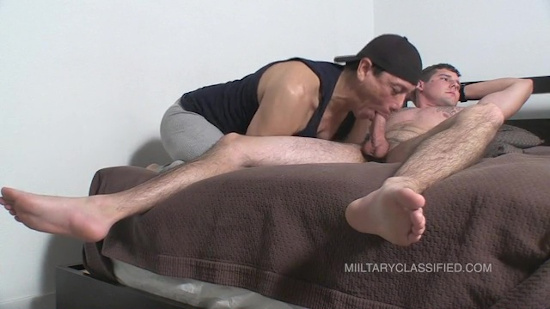 Click here to watch or download his entire video in HD quality from Military Classified!
Military Classified is a well-known straight guy site that features lots of military men (marines, navy men, Air Force servicemen and an occasional civilian guy as well). At the moment of writing this mini-review there were more than 420 videos of various guys in the content area of the site! Of course, the guys are always horny and eager to bust a nut. While for some the primary motivation is money, there are also many guys that are curious to see for themselves if it's really true that men suck cock better.