When we featured Beefcake Kip last time, he proved to be very popular with our visitors… so I wanted to show you one of his earlier appearances. This was recorded about one year ago, so it's not actually very old at all. Kip was celebrating his 9th marriage anniversary, but at the same time he wanted to earn some easy cash, which is easiest to accomplish if you visit someone like Victor from Beefcakehunter.
The two guys spent some time in Victor's backyard. Namely, when Victor ate the worm from the previous bottle of Mezcal, Kip saw it and was eager to try it himself as well. This guy is so open-minded and lots of fun to be around! There's quite a bit of chat, and if wasn't all edited out it would have been too long. But Victor left some interesting parts, such as when Kip gives his loyalty pledge to Beefcakehunter.
Kip lit up a cigarette because he wanted to relax a bit more. But nobody could stop Victor from swallowing that perfect huge thick cock even while Kip was smoking a cig. Victor used his both hands, because he knew that Kip liked that. Within just a few more moments, Kip's cock grew to its full size. While Victor was massaging Kip's muscled chest, a naughty idea appeared in his mind – "this time I'm going to get Beefcake Kip swallowed to the last drop!"
Kip soon switches into his usual dominant mode and grabs Victor's head, pushing it harder and deeper onto his cock. And while it's certainly not terribly easy to deepthroat such a huge dick, Victor gave his best.. and Kip acknowledges it by giving some dirty talk, while still smoking several cigarettes like a mofo.
The final few minutes were especially interesting because Victor focuses on his own mouth, tryin to service that perfect cockhead, and at the same time he uses both his hands to stroke his cock. As he approaches the point of no return, Kip's breath really intensifies, and after a few more moments we can hear him say, "I'm going to cum". Victor only needed to hear that and he immediately wrapped his lips to Kip's cock so that no drop would be wasted. Kip was totally surprised by Victor's tenancy and complete commitment to his cocksucking job!
Preview video: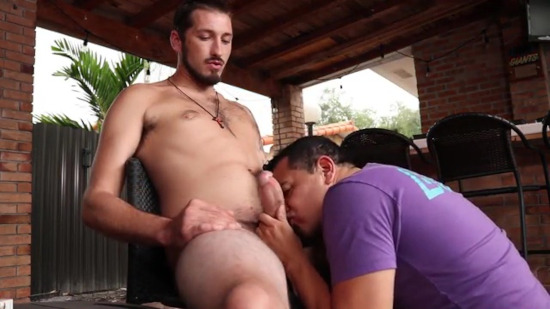 Click here to watch or download their entire video in HD quality at BeefCakeHunter.