Today we're going to take a closer look at 5 very hot straight lads: Carter Lewis, Craig Marks, Ethan Williams, Dominic Moore and Jack Harper.
Just seeing these two muscular studs lying shirtless next to each other was enough to give me a major boner. Both Carter Lewis and Craig Marks are very muscular and have almost similar builds. Both have really well-defined arms, ripped abs, muscular chests, strong hairy legs, and big masculine feet.
As soon as they were put together, there was no need for the director to tell them anything because they got right down to business. Obviously, they are really turned on by each other, and there is a lot of passionate kissing before they start exchanging blowjobs. It's stunning to see these two ripped hunks sucking each other's massive, hard, uncut dicks! Carter tells Craig to pull his legs behind his ears so that he can eat his tight, hairless hole. Carter also uses his fingers quite a bit to relax that hole for his huge throbbing cock. Then these lads switch into the 69 position and deep throat each other's cocks.
Finally, it's time for Craig to take Carter's pounding, and Carter really gives him a very hard and thorough pounding! Looking at Craig's face expressions, he was loving every second of it. Craig definitely knows how to take a big stiff cock like a man and he proves that by shooting his load while Carter's cock is still buried deep inside his ass. Craig's jizz splatters all over his ripped abs. Carter then eats Craig's cum and a few moments later he unleashes his own thick load. Both guys shot pretty big loads! Thanks guys, that was one super hot and superb pairing!
*****
Ethan Williams is a totally straight young footballer with strawberry-blond hair and great muscular physique. He has been working out quite a bit lately, and it shows. He is now more ripped than ever before! Ethan shows off his hot body by flexing his powerful muscles. The camera then pans onto his hairy legs and hot masculine feet. Ethan then pulls out his huge semi-hard cock, and you can't blame the director for not being able to resist the temptation to offer his helping hand. With Nick's help, Ethan's semi-hard boner quickly grows to its full impressive size and starts throbbing! Ethan's cock is one of those that always point straight to the ceiling. No doubt that director Nick's helping hand helped him to achieve such level or erection, as well.
Ethan says that he abstained from jerking off for several days and so his balls were full of jizz, yearning for the moment to be released. There was a lot of pre-cum that was oozing out of Ethan's massive super-stiff cock, too. When he settles on the sofa, Ethan is obviously quite laid-back and he was happy to show us his fuzzy blond hole. Then he takes the matter into his own hands and strokes his cock fast until he shoots his load!
*****
Dominic Moore and Jack Harper are two fit straight lads. While Dominic appears on Englishlads pretty regularly, we haven't seen Jack since 2018! Well, in the meantime Jack has become more manly and hairy than he's ever been. Both guys are really fit and they work out regularly to keep their bodies in shape and well-defined.
The lads first touch each other's bulges in their trackies, and even rub their bulges against each other. They take off their clothes and their cocks start to grow pretty fast, from rather big and long semis to huge pulsating erections! Both guys are pretty hung and uncut. They start stroking each other's hard dicks and they do it in various positions. Those big dicks were too inviting and the boys couldn't resist to try to suck each other's massive dicks. Jack was the first to give it a try, and surprisingly he manages to swallow Dominic's whole huge hard boner!
Not to be beaten, Dominic also bends over and returns the favor by sucking Jack's hard throbbing missile. The guys were feeling quite adventurous and willing to experiment with various things, so they even try the 69 position. Then they power wank their own cocks until they both jizz all over their muscular abs! That was a hot and fun handjob-blowjob duo, maybe we can expect some fucking when we see you next time?
Carter Lewis and Craig Marks
Ethan Williams
Dominic Moore and Jack Harper
Preview videos: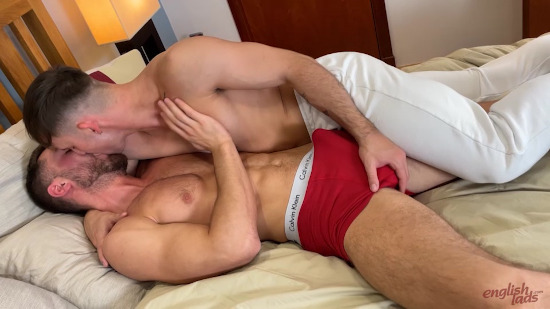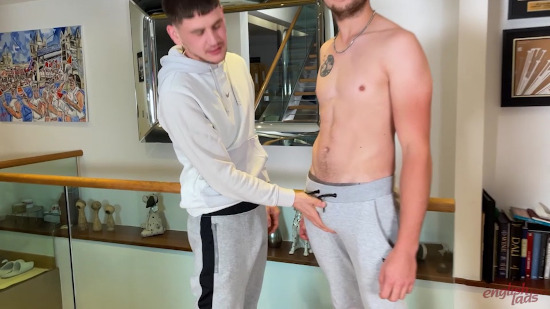 Click here to download their entire videos in perfect HD quality at EnglishLads!
English Lads is a fantastic site with loads of very manly, straight lads from England who love to show off and jerk off for the camera.  The guys that appear here are usually not found on any other site, so the content is quite exclusive. All movies are in HD quality.