Although the title of this video is "Riding Edward's big cock", there's quite a lot of other interesting things in this video as well. There have been several months since our good buddy Edward visited Victor (and his ass!) so we were all pretty eager to see him again. Victor was careless enough to lose Edward's contact information, however Ed had saved the Beefcakehunter's phone number and eventually contacted Victor on his own.
The name of the title of the video was inspired by one of the Beefcakehunter members who was curious to see how it would be to record the Beefcake's cock from a different perspective, such as POV, but without focusing exclusively on the cock. He wanted to see the rest of the Beefcake's body as well. Victor is always eager to please his members, so before sitting on that huge thick cock, he took time to worship his cock and balls. That was shot in the POV perspective.
Edward was in the mood to talk this time, so he and Victor talk quite a bit, focusing mostly on porn… and the chat lasted for so long that Victor had to edit out some parts. Of course, Edward's dick is so gorgeous – long, thick and always super hard, and upright like a rocket!
Victor says that when he sat on Edward's cock, it felt so fucking awesome that he went into a trance-like state, almost hallucinating! He was pretty loud and talked profanities, and he felt so grateful to Edward for impaling him on his magnificent huge dick that he almost kissed him at one point. Or maybe he actually did kiss him? Check that out in the full video!
Victor wanted to do something special for the grand finale, so after having been pounded so well and riding that dick for quite some time, Victor told Edward that he'd like to be fucked missionary style until Edward cums. That gave Edward enough leeway to go at his own pace and at his own rhythm and finish inside Victor's ass.
Victor says that Edward came a lot, and that he felt it was an abundant and warm load, although there was a condom. "I could feel it", Victor assures us. Well, we can only be a little jealous of Victor, Edward is such a great straight top that is not so easy to find.
Preview video: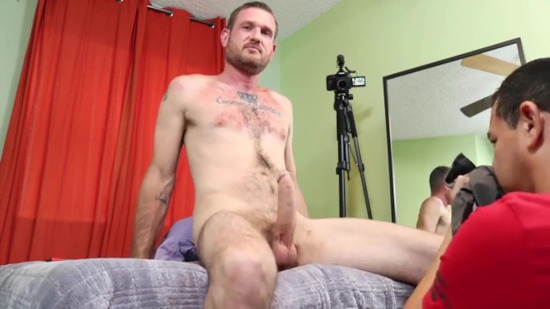 Click here to watch or download their entire video in HD quality at BeefCakeHunter.