Stefan is a hot, 36-year-old straight biker with a sexy trimmed beard, tall and lean body and nice belly-slapper cock! He is 6′ (183 cm) tall and weighs in at 156 lbs (71 kg).
Stefan is of Italian and American descent. His brown beard is neatly trimmed, and suits his very well, especially in combination with his chest and belly hair. He is a very physical guy and works a lot with his hands. He has worked as a carpenter since the age of 17. All this has given him a naturally tight and lean masculine body. It's worth mentioning the fact that he keeps his natural bush intact around his hot cock and low hanging donkey balls!
Stefan was quick to remove his leather biker jacket, jeans and boots. He enjoys showing off his low-hanging balls through his grey boxer briefs. Unsurprisingly, his cock is soon awakened and Stefan starts stroking it. He also wanted to show us his 6 special body piercings: 5 in his navel and one in his tongue. He looks so sexy with his rock hard boner which easily reaches up to his hairy stomach. Stefan is proud to have a nice big cock which he calls "belly slapper". He's also proud of his nice low-hanging balls and loves to tug on them, especially while stroking his cock at the same time. One more maneuver: Stefan pulls down his pulsating dick until he touches his balls with it, and then releases it like a spring! Obviously, he gets off on slapping his belly with his stiff hard cock, and he says he loves the sound that his cock makes in the process.
He was a little anxious to take a piss in front of the camera, but nevertheless he did it, peeing into an orange 5 gallon utility bucket, just next to the Oregon forest. There is something inherently attractive about this friendly and always horny carpenter, and it probably has something to do with his naturalness. He kept telling us various stories about his life in Hawaii, where he spent some time before he finally returned to his native Oregon and started working as a handyman and carpenter.
In the interview, Stefan reveals how he loves working out naked at home, and even how he sometimes works nude and occasionally jerks off while being preoccupied with various jobs in his house. He definitely digs his newly found hobby – modelling for Islandstuds and working naked outside in nature. He finds a pair of dumbbells and starts working out his already hard strong biceps. Of course, being a horny little devil, his cock is still hard as rock and points straight into the sky! He also gives us a great view of his nice sexy ass, and allows us to see his balls dangling between his legs while he moons the camera.
In every episode of Islandstuds there is of course the popular and somewhat silly part called "Nudist Worker Series". Stefan was given the assignment to work hanging a shade trap off the roof of the house using a tall ladder and tools. The weather was pretty hot that day, and he started to get all sweaty after some time. To protect his eyes from the strong sun, he puts on the sunglasses, his cock gets hard and throbbing, and then he continues to work on the metal poles while his cock keeps slapping against his thighs. We get to see his impressive butt cheeks and dangling balls once again, and occasionally we can also see his ass crack while he works diligently on those metal poles. He sports distinct and easily noticeable summer tan lines because he often works outside exposed to the sunshine – hitching, climbing and doing his carpentry work for his clients.
One can't help but start daydreaming about Stefan in the role of your personal naked carpenter! We can also feast our eyes on Stefan's hot masculine feet, and then there are more ass shots, as well as his cock and balls caught in different camera angles. Once the work is over, Stefan decides it's time to take a well-deserved break and sits down on a sofa in the house to take care of his pressing erection "problem". Definitely not in a hurry, Stefan takes his time and strokes his cock slowly and passionately. He is not focused only on his cock, but rubs and manhandles his balls as well while stroking his tool. We are sure he has an exhibitionist streak because he obviously enjoyed looking directly into the camera while manhandling his cock. When he's close to the point of no return, he releases a loud moan and shoots his load.
It's time to clean up all that cummy mess now, so Stefan heads straight to the shower. He keeps talking to the camera as his dick continues to bounce around in the water. Again, he gives us a good view of his now soapy virginal ass. He opens his ass cheeks and even inserts his whole soapy hand into his ass to clean himself up properly!
Preview video: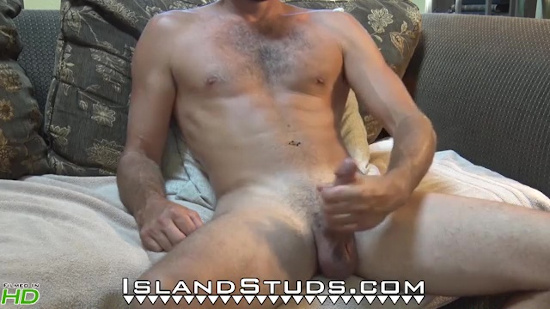 Click here to watch their entire movie in HD quality at Island Studs!
Island Studs is a great, new, and refreshing porn site that features hot guys from Hawaii. These bad boys have no problem with showing off their beautiful, toned body and hard cock. Watch them as they do their usual chores against the stunning backdrop of Hawaiian nature!