Today we are going to take a closer look at four hot straight guys: Louis Martin, Dominic Moore, Mitch Lee and Louis Lister.
Believe it or not, Louis Martin is only 19 years old and he already has a pretty amazing, beefy and muscular body. He was eager to come again and experiment some more with showing off for Englishlads. This time round, it was going to be his solo jerkoff session.
Louis gets comfortable on the bed, takes off his clothes to reveal his amazing muscular hairy legs, strong beefy and muscular chest and arms, and his big uncut cock – which was so eager to show off, too, that it got hard within seconds!
Louis takes his time and slowly teases himself. He had saved up his load for a few days for this occasion, which was probably difficult for a stud like him in whom the testosterone rages at high levels and makes him horny all the time! He confesses that he often has to cum multiple times in a day to keep things under control.
Louis' cock looks like a rocket on the launchpad and it was rock hard throughout the entire shoot. It's such a joy to watch such a powerful cock. It stays hard even while he is doing press-ups while being naked on the bed. That was a good opportunity to check out Louis' hot naked butt, as well.
He gets into doggie position and keeps stroking his cock while his butt is up in the air. Louis' cumshot was pretty intense, with a stream of jizz flying and almost hitting his face! Of course, after such a great jerkoff scene we are treated to a hot shower scene, as well.
*****
Dominic Moore and Mitch Lee might look like two cute innocent lads, but if you leave them alone to their own devices, as director Nick did, they will definitely do some pretty naughty things! Both guys have similar lean bodies, and both hide a huge uncut cock in their pants!
After a little bit of chit-chat the boys start checking out each other's body and especially each other's cocks. It doesn't take long before both lads are sporting massive throbbing erections!
Mitch took the initiative and soon Dominic's long dick was in his mouth. Dominic seems to have a penchant for having his balls nicely sucked… and after some time he returns the favor. Mitch was in the mood to experiment, so he goes for the 69 position. From this position we get to take a look at his smooth tihht asshole, as well. Then both boys start to stroke their cocks more intensely until they both cum. Mitch was the first to shoot his load, and then Dominic follows suit and shoots several big and copious squirts all over his abs!
*****
Louis Lister is back for more experimentation and trying to push his boundaries a little more. This handsome, young lad has the typical straight-boy demenour and attitude, which we definitely dig. He has a cheeky smile, dark wavy hair and he loves his tracksuits and hot socks which he likes to show off whenever an opportunity presents itself.
He was happy to show off his nice, lean and smooth body, as well as his hairy legs. For this occasion, Louis managed to save his load for several days… which obviously paid off! When he started to cum, his jizz was flying all the way up to his upper body! That was a great jerkoff scene, Louis!
Louis Martin
Dominic Moore & Mitch Lee
Louis Lister
Preview videos: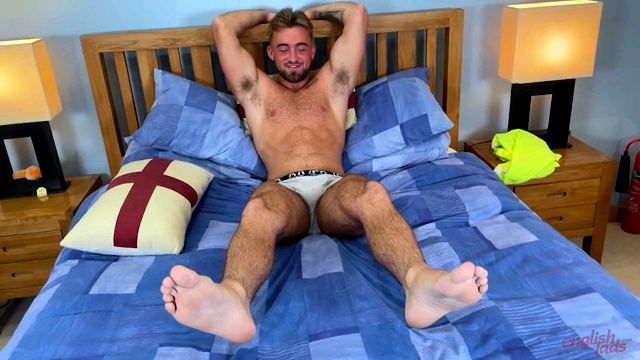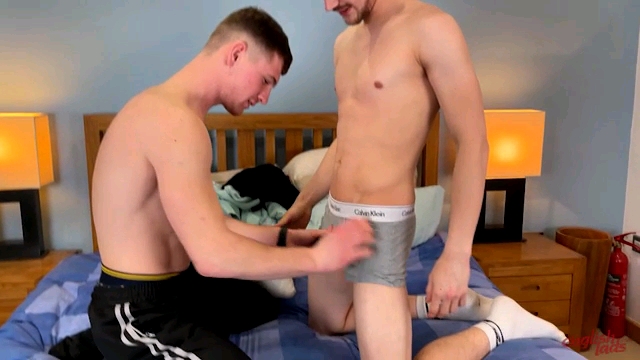 Click here to download their entire videos in perfect HD quality at EnglishLads!
English Lads is a fantastic site with loads of very manly, straight lads from England who love to show off and jerk off for the camera.  The guys that appear here are usually not found on any other site, so the content is quite exclusive. All movies are in HD quality.