We've already seen hot athletic fitness trainer Cedric on several occasions (e.g. check him out here for his firs appearance). But, this time we get to watch some previously unreleased footage of Cedric giving his first blowjob to another guy!
First, Cedric gets his own cock sucked off by the maseur. It was supposed to be "an off camera event", meaning Cedric thought it would never be released for the public. And then, the masseur suddenly whips out his huge cock and lets Cedric feast on it. Cedric was so turned on by the entire situation that he couldn't say "no" to the masseur's delicious huge erect dick!
It's pretty obvious that Cedric was very eager to get a taste of another man's hard cock, and this was the perfect chance to make that wish come true. Cedric didn't want to stroke the masseur's cock with his hands. Instead, he thought it was much better to swallow it and suck it hard while stroking his own cock in the meantime!
So, we hope you'll enjoy this "unofficial" recording, even though it was not planned and is completely unscripted. Here is an inexperienced hot straight guy, a personal trainer, who wants to get a taste of another man's cock… so hot!
Preview video: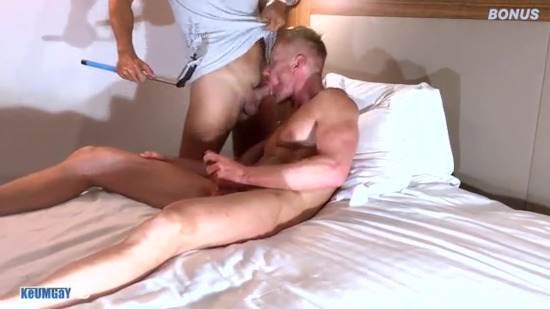 Click here to watch or download their entire video in HD quality at Keumgay.