by Ben Daniels (Admin) on Apr.17, 2014, under BaitBuddies
Here we have two hot straight guys, Robbie and Playboyee (his stage name). They are actually friends in real life and they met each toher while playing in a rock band several years ago. Namely, Robbie was the lead singer and guitarist, and Playboyee was the drummer.
So, these two hot straight musicians left the band and are now having some nice time down in Miami changing various jobs. Of course, they didn't forget to attend the notorious Ultra Music Festival. Playboyee even went so far to submit his own application because he wants to be a model. In the application he wrote, "straight, athletic, plays hockey, was married and has a kid".
Apart from being a musician, Robbie is also a semi-pro MMA cage fighter. Robbie told our casting director Caruso that him and Playboyee are really close buddies, almost like brothers and that he knew, as Playboyee knew, that they would have sex one day, if nothing else just to make an experiment.
Playboyee says that Robbie is indeed completely straight Robbie has had his present girlfriend for years now. However, he also adds that Robbie is a wild boy and that the two have already had lots of 3-somes and even 4-somes, so they've already seen each other naked and in action. It was Playboyee who talked Robbie into trying this sex thing together so they could earn some easy cash to pay for the Ultra Music Festival tickets and the bus ticket to Miami.
Playboyee has this crazy plan to tell his buddy there would be a girl that they would both tag team, but in reality he wanted to suck his buddy's cock and finally feel his cock up his ass. Can't really blame him, Robbie is super hot and his cock is stiff and amazing.
So let's fast forward to the action itself – the two straight buddies are sitting on the sofa with their cocks erect – they both have nice 7-inches of man meat and hot fit bodies. Caruso tells them to start whacking off each other's cock to let them relax a bit. They were both quite nervous and tense, so while they're stroking each other's cock they continue to crack jokes and laugh out loud. Little by little, they agree on the new name they're going to adopt for themselves – Robbie thinks that "The Butthole Surfers" would be just right, while Playboyee thinks that "Strokenoffs" sounds more apropos for what they're doing.
Well, while they might have been nervous, their cocks decidedly refused to be nervous and got stiff and hard as ever. They proceed to suck each other's cock a little – an awkward but hot sight to behold for sure. Then there's some kissing as well, and Playboyee jokes mentioning to Robbie "You kissed me like you like me."
Next, Robbie finally shoves his big cock deep into his buddy's tight virgin ass – and fucks him until he fucks the cum out of him – hot! Playboyee shot his wad all over himself while being fucked in the ass. So, patience did pay off for Playboyee and he finally got what he wanted all along, his buddy's hard cock in his ass.
After the official scene was over and the camera was turned off, Caruso asked Playboyee if he would tell his buddy that the whole thing was just a set up, but Playboyee says probably no because he was afraid Robbie would be completely pissed off.
Caruso also asked Robbie if he would mind having another similar shoot with Playboyee and he basically said "yes", but after they were gone Caruso tried to contact them but they became unreachable. I guess we'll have to wait until their cash reserves are dried up, then these boys might re-appear out of nowhere again!
Preview video:


Click here to watch their complete video in HD quality at Bait Buddies!
Bait Buddies is a pretty hot straight guy site with plenty of updates and some very hot guys indeed. There is always a "bait" dude who is bi or gay, and a straight (or sometimes "straight") dude who needs to be seduced into gay sex.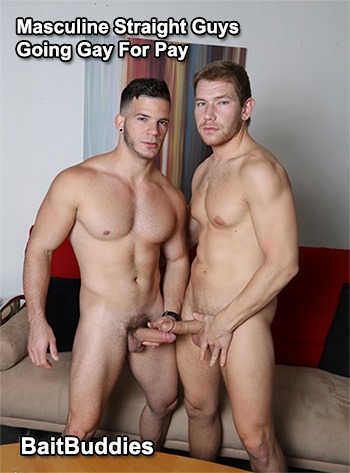 :big dick, blowjob, fit body, fuck the cum out, kissing, musician, Playboyee, Robbie Rivers, straight guys, tattoos