The text description we got from Mikey Lee:
"These two guys decided to make some DIY repairs, and when the job was finished they realized that everything was so squeaky clean that they just had to make some mess over those dust sheets. They were attracted to each other so much that the electric charge could be felt in the air! The passion was definitely through the roof.
Well-known top Ricky Hard takes charge and drills his apprentice nice, raw and hard! The sparks were flying in all directions as these two fucked like there was no tomorrow. Ricky deep penetrates his apprentice's tight little ass with his big cock. The bottom also has a big dick, and he can also be a top, so we're looking forward to seeing him nail some bitch bottom boy and fuck him hard and dominate his hole."
Ben's commentary:
This was defo one of the hottest and most intense bareback fuck scenes that we've seen lately. These two had definite chemistry and there was so much passion! It's always easy to notice when the guys are actually into one another and enjoying their love making!
Preview video: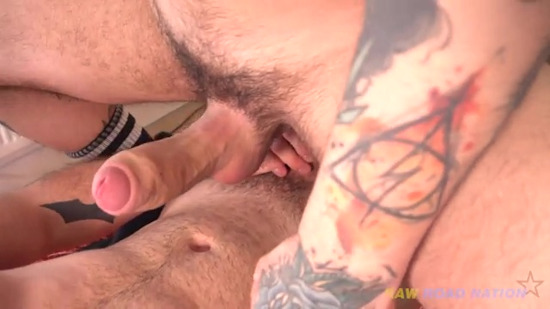 Click here to watch or download their entire videos in HD quality at Raw Road Nation!