It's a lazy afternoon and the place is somewhere on a rooftop in Argentina. The legendary top Naked Yogui is feeling horny and his huge heavy dick needs urgent attention from a skilled cocksucker!
Thankfully, the ever-cock-hungry cocksucker Emanuel was around and volunteered to lend the big-dicked top a hand, and a mouth as well. Now, it's quite obvious that Naked Yogui's cock is not for beginners, it takes some real skill and experience to handle that huge piece of manmeat properly, and Emmanuel does a great job at that. He even tries to deepthroat this beautiful thick monster cock at times.
You can tell that both guys were totally into it and enjoyed their time together. Naked Yogui was smiling throughout the whole blowjob scene and Emanuel was so devoted to pleasuring and worshiping his cock that it's no wonder he got rewarded in the end with a nice big cumshot which Naked Yogui delivered straight into his face!
Please note that this scene is scheduled to be published on TimSuck on April 1st 2022.
Preview video: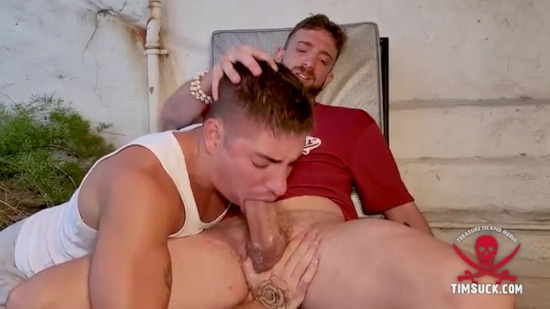 Click here to watch or download this entire video in HD quality at Tim Suck!