Ripped Mountain Man Daniel is back! Daniel has Italian, German, Hungarian, Irish and American blood running through his veins. He is 29 years old, his height is 5'8" (173 cm) and he weighs 155 lbs (70 kg). This hot and masculine straight stud has a lovely ginger beard and his chest and perfectly smooth and muscular, with just a little bit of belly hair. Daniel likes to do rock climbing (hence the nickname Mountain Man), and to prepare himself for such a demanding sport he has to work out quite a bit.
So, it's no wonder that Daniel sports some pretty solid 6-pack abs and naturally muscular physique in general. Those that are fond of dick hair will love to see what Daniel has in store for us in that area. Not only is Daniel's beard ginger colored, but his dick hair is ginger as well. He gets rid of his street clothes and his cock immediately rises to the occasion, standing upright as soon as he releases it from his blue Hanes boxer briefs. He wastes no time and begins to stroke his magnificent cock and balls which respond quickly.
Daniel's cock truly deserves the facetious term Belly Slapper. He keeps walking around the tropical garden with his cock fully erect and pointing straight to the sky. It's funny to mention that this country boy first heard of the term Belly Slapper when he was making his first appearance on Islandstuds! Check out his reaction when he heard the meaning of those two words. His first appearance also has some great scenes, such as when somewhat nervous Daniel trims his bushy beard while being completely naked, as well as when he spreads his ass cheeks wide open. Or when he stands high on the ladder and starts to jerk off. You can still find this video in the Islandstuds' members area.
Whether you watch Daniel's first video or this second one, it's always a joy to watch when he holds his cock between his balls and then releases it. Check out that wonderful sound that his dick makes when it slaps against his stomach. In this video he also wanted to show us how he can take a long piss while being fully erect! Pale yellow piss erupts from his fully erect cock and makes something that looks like a geyser in the garden.
Perhaps it's interesting to mention that Daniel likes everything all-natural. So on his farm he only grows organic foods. He's also a geek to some extent – for example, check out his Star Wars tattoos and how he explains their meaning. Daniel says that he is quite fond of his new weekend job – modeling and working various chores naked in the garden under the pleasant Hawaiian sun. He jokes and says how he would like to do that job 4 days a week.
We all know that there is the always popular "Naked Worker Series", and this time it's no different. Daniel was instructed to work trimming Heliconia stalks while being essentially naked and wearing only his work gloves and his thick leather boots. The view of his low hanging balls when watched from behind is always impressive. His white muscular butt has been captured from all possible angles by the camera while he was working in the garden.
Daniel comes across as a serious, polite and obedient guy. His body gets covered with all kinds of leaves and dirt while he's sweating under the warm sun. When the work in the garden was done, our bearded hunk gets comfortable on a sofa outside and gets down to the main business – stroking his cock. Daniel likes to jerk off slowly and he definitely takes his time. We are never tired of watching him show us how that Belly Slapper actually works. The director asked him to stand up, turn his butt towards the camera, put one boot on the sofa, bend over and stroke his perfect cock that way. He was able to put his throbbing cock between his muscle butt cheeks.
There is also a great scene when he spreads his ass cheeks with one hand, and then puts his bearded face between his legs, while still looking at the camera and stroking his stiff dick. That way we get his masculine face, bouncing balls, stiff cock and hairy pink man hole all in one shot!
When he reaches the point of no return, Daniel starts shooting a real fountain of warm jizz which flies through the air and finally lands on his stomach. Then he stands up and lets all that sticky cum slowly drip down to the ground from his body. Of course, it could not end any other way but with the legendary outdoor shower. There's more spreading butt cheeks and showing off his tight virginal asshole while the soap suds keep getting washed off by the water. Such a hot masculine sexy hunk!
Preview video: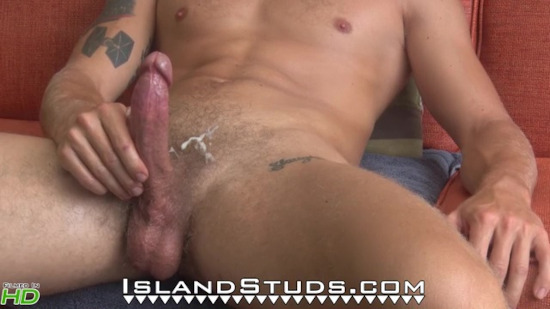 Click here to watch his entire movie in HD quality at Island Studs!
Island Studs is a great, new, and refreshing porn site that features hot guys from Hawaii. These bad boys have no problem with showing off their beautiful, toned body and hard cock. Watch them as they do their usual chores against the stunning backdrop of Hawaiian nature!