We have already seen handsome blue collar guy called Don several years ago, and he was really popular among the fans of the site Island studs.
And now Don is back to show us more of that amazing muscular and tall body! Don is currently 35 years old, his height is 6 ft (183 cm) and he weighs in and about at about 200 lb (91 kg). Don't still works as a construction worker, and he is originally from Tampa Bay Florida.
Don says that he's proud of his Playboy lifestyle, which he enjoys and pursues since he has moved to Hawaii last year. Or, as he put it, "Long term relationships temper my game". Don explains with great delight how he often now gets recognized on the street and around town because he appeared on Islandstuds a few years ago.
He says that a lot of his bros are now jealous of him because of his first appearance on Islandstuds. Many guys approach him to tell him how hot his first video is, because they watched it on Islandstuds.
Don then explains the two words that define him most: Perseverance and Determination, which he has also tattooed on his big pecs.
The director spent a pleasant afternoon in the sun talking with horny Don and this video captures nicely most of their chit-chat. Don tells us about his new life that he is now able to live on the Hawaiian Islands while slowly stroking his amazing 8 inch cock. Just pay attention to when he swings his throbbing dick between his smooth ass cheeks, while picking up a heavy barbell, and bends over with his ass to perform chest presses.
Don also has big hairy balls that hang low and they keep dangling while he works out! He keeps demonstrating how he works out with the weights and then suddenly grabs his ass cheeks with both hands and shows us his manhole in full view!
And as if that wasn't enough, he bends over 9 more times to give us the best possible view of his pink butthole. As you may remember from his previous appearance, Don is very fond of playing with his fingers and putting them in his asshole, which he keeps doing in this video as well! And throughout all this, he keeps smiling into the camera.
Islandstuds is well known for their "naked worker series", and when it comes to Don's chores, the director decided to give him to work on trimming trees high off the ground on a ladder. Don accepts the challenge and does this work completely naked, with his big cock and hairy balls dangling between his legs!
Then, after his sweaty dirty nudist work in the garden is finished, our horny Don is happy to show us how he strokes his big throbbing cock – slowly and with great gusto.
The cameraman managed to catch Don's hairy muscle thighs while at the same time we get to watch Don's happy smiling face and his 8-inch pulsating cock and Big Balls sack dangling between his legs!
Don reckoned that it would be cool to raise his foot and rest his dirty work boot on the bench so that we could get a better view of his virginal tight butthole!
Don keeps flexing his big biceps and shows off his stiff 8-inch hard dick. There's no denying that this beefy construction worker is one hot motherfucker!
We had an Inkling that Don's orgasm would be explosive, but we hadn't anticipated that it would be such an amazing full body orgasm! Just pay attention to him moaning and squealing loudly while his whole body keeps shaking and quaking. He shoots a huge load of warm creamy jizz all over the deck between his legs.
Of course the smile never leaves his handsome face, even after such an earth-shattering orgasm. However, Don still feels horny and keeps posing and flexing his muscles while his creamy load drips from his body and still swollen cock. Lovers of shower scenes should should not miss his amazing shower scene. Don definitely has an exhibitionist streak because he loves so much being watched in the shower
He slowly lathers up his muscular body, then bends over with his ass and puts his finger he's so big finger in his ass in this amazing outdoor shower scene. And then again he opens his ass cheeks while washing his feet and shows us his manhole. Both of Don's videos, the older one from a few years ago and this latest video are available at Island studs.com!
Preview video: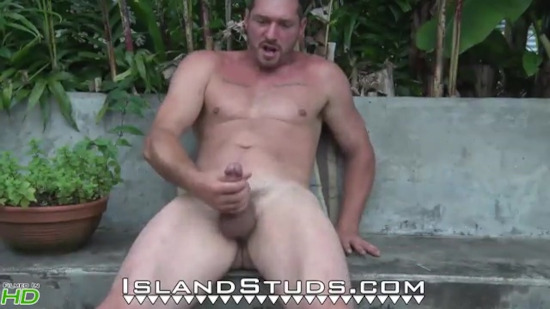 Click here to watch his entire movie in HD quality at Island Studs!
Island Studs is a great, new, and refreshing porn site that features hot guys from Hawaii. These bad boys have no problem with showing off their beautiful, toned body and hard cock. Watch them as they do their usual chores against the stunning backdrop of Hawaiian nature!