The Keumgay director says that he had been chatting with Adam for several months over the internet before they actually met. Adam is a very hot and handsome athlete, now in his mid thirties, and looking absulutely irresistible – a real masculine daddy!
The director used every opportunity that presented itself to propose to Adam to pose for his site in a solo jerk off video, but Adam was reluctant and unsure about that because his job demanded a high level of privacy and avoidance of public exposure in sexual contexts.
And then, during one weekend, they came across each other in a gym in Paris, quite by accident because Adam didn't tell the director that he would be there. And so, there, in that gym, while they were working out together, the director told Adam that he could just do some photo shoots for Keumgay site when he came to Paris. And that's how it happened.
Adam was inquisitive and asked a lot of questions, so the director and him chatted for quite some time again before taking the photos at the hotel where the director was staying. Adam was not opposed to being filmed in a sexy sexual context without any hardcore porn elements.
Of course, that was an opportunity that the director couldn't let pass, so he offered to Adam a massage, which would also be recorded, and Adam eventually accepted the offer! In order to provide the high level of satisfaction and quality, the director decided to invite his assistant, who is a very skilled masseur. And the assistant was there in no time.
Masseur Jarem is really one of a kind. He did everything in his own unique way and took the massage to the next level, quite beyond the director's and Adam's expectations.
Although Adam wasn't keen on getting his big muscular pectorals licked, masseur Jarem proceeded with his plans anyway, and it seemed that Adam didn't protest, at least not outwardly.
Jarem's next move was to remove Adam's boxers, and then both director and the masseur were pleasantly surprised when they saw what beauty and treasure Adam was hiding in those boxers – A beautiful big surprise indeed, that had to be handled carefully
Preview video: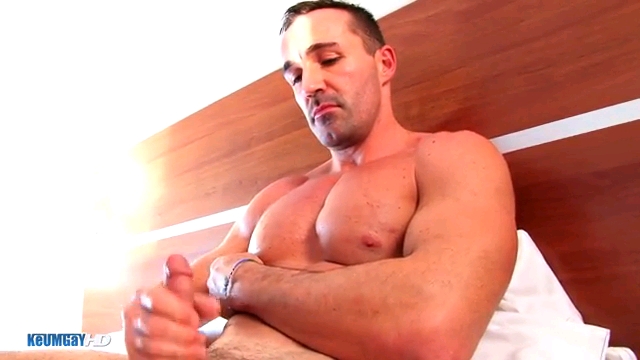 Click here to watch or download their entire video in HD quality at Keumgay.