Tag: big mushroom cockhead
by Ben Daniels (Admin) on Apr.08, 2013, under Rate These Guys
I had a sneaking suspicion that Kris hides a really big cock, or really big cockhead down there in his pants, but wasn't entirely sure. His mean look due to his shaved head seemed like a portent of the things to come, once he whips out his hard rod.
The edges of his cockhead could be often seen through his boxers… And today I realized I wasn't mistaken about his exceptional cockhead – just watch until his cock gets fully hard, it's an understatement to call it a "mushroom head"!
The helmet on his dick looks pretty imposing and I can bet that that cock feels great when this cocky hetero hunk fucks some tight hole.
His cumshot was pretty nice and copious, he shot his wad onto his thigh and it was really sexy.
Preview video:

Click here to watch or beat off to his entire videos at Rate These Guys!


All these hot straight boys on RateTheseGuys are desperate to earn high ratings on their videos, and YOU have CONTROL over how much cash they make and what they do in the future. Create CHALLENGES for them, leave explicit comments and interact with your favourites.
There are almost 400 exclusive, personal videos with mostly straight guys who would do anything to win the prize – they fuck themselves with huge dildos, stroke their dicks, shoot their jizz and cockily show off their entire body. Join the site and you will be able to rate them, talk to them and give them challenges which they must do in order to win the main prize!



1 Comment
:big cumshot, big dick, big mushroom cockhead, hairy chest, hairy legs, handsome, Kris, shaved head, straight guys
Click For More...
by Ben Daniels (Admin) on Sep.07, 2010, under You Love Jack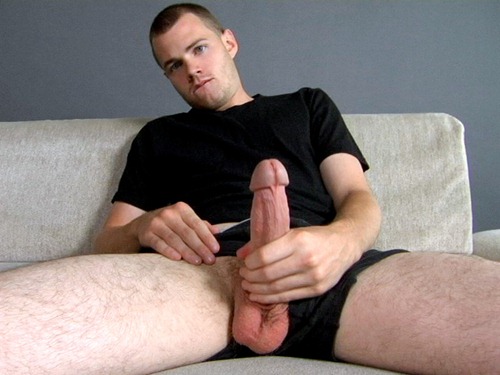 Let's make something clear right at the beginning. Charlie has a beautiful cock.
Check that – FUCKING beautiful!
Perfectly proportioned cockhead above a nice thick shaft with a gentle upward curve. Just enough to say, "Come and get it!" Delicious. His big balls hang beneath his impressive cock and beg to be licked, sucked, worshipped…"
Understandably, Charlie is proud of his boner and will show off that gorgeous dick from all angles, jacking it all the time. He massages his balls and his cock seems to grow even more harder. It's actually rock-hard during the whole session. After a few minutes from his slit hole comes out a rather large amount of precum, and he uses it to lube his cock.
Finally he brings himself to the orgasm and shots several nice squirts of hot baby-batter onto his black T-shirt.
Preview video:
Click here to watch this young hung stud's entire movie at YouLoveJack
(he has made about four vids for them)!
YouLoveJack is an unavoidable destination if you are into younger, mostly straight dudes who are usually extremely hung. Trust me on that – they have massive schlongs. Watch them jacking off their huge manhood and shoot massive loads of semen all around the place!
6 Comments
:big dick, big mushroom cockhead, Charlie, cumshot, handsome, jerking off
Click For More...