Remember that hot jock from your high school days whom all the girls were crazy about and all the guys secretly admired and wanted to be like him? One can't help but stare at those hot sexy motherfuckers while you're in the locker room… and of course, they pretend not to notice while you're checking out their hard bodies, and what's hiding inside their shorts.
Well, Andy McBride could be one such jock – but with a twist! He would probably stare back at you and invite you to join him in some crazy sexual adventure! Andy is a very cheery and optimistic guy. He loves to work out in the gym, and he also plays disc golf. While that game might have seemed like a hipster kind of thing 8 years ago when he started, now it's become pretty popular.
Andy is 26 now, and he's grown into a really handsome muscular man. His chest is smooth and quite ripped and he's got gorgeous big arms, as well. Andy is a very well-endowed man. Damn! Just check out that huge thick cock with an amazing thick mushroom head! It's the stuff that dreams are made of, for sure!
Andy says that he has had a lot of partners and he kinda stopped counting their number. He finds it difficult to label himself as a particular sexual orientation, but it could be said he's bisexual or even pansexual. He considers himself a very sexual person, and even just being sexual just turns him on.
In the second video we get to watch his great solo jerkoff scene. Watch as this dude slowly strokes his MASSIVE hard dick. Andy was super-hard throughout the entire time that the video was shot, and he was able to go from one position to the next without the need to stop the recording and then to work on his erection again. This dude is one super horny motherfucker!
After a very satisfying jerking off session, Andy shoots a massive load all over the bed, and then he helped the crew to clean it up and even tasted his own cum. He says that a taste test is always necessary! What a sexy gorgeous freak!
Preview videos: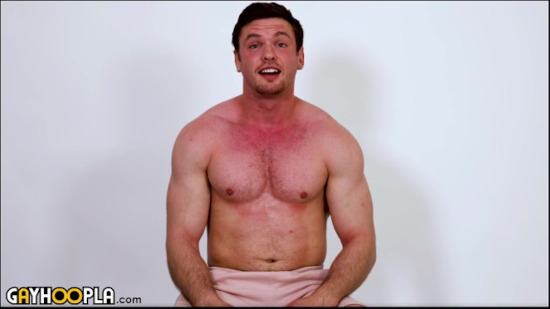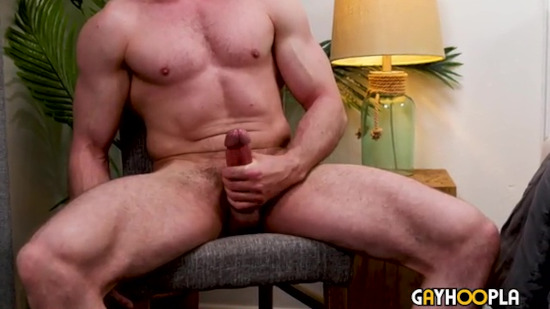 Click here to watch or download his entire video in HD quality at Gayhoopla.