Tag: Braxton Smith
by Ben Daniels (Admin) on Feb.12, 2016, under BaitBuddies
Blake is a hot and brand new straight newcomer who comes across as a typical redneck boy with plenty of attitude and great looks. This blue-eyed straight boy is fit but slender, and has one of the biggest cocks we've seen in a while. His tool measures no less than 9 inches of solid manmeat, and he loves to use it on sexy girls. His favorite type of girl is a slutty, easy-going chick that will give him her pussy any time he wants it. He prides himself as having lots of sex, with plenty of chicks. So he thought to himself, why not cash in on his ability to fuck chicks and try his luck in porn!
Speaking of slutty, our other dude for today Braxton certainly does fit into the description. He told us his usual day these days consists of sleeping, eating and having lots and lots of sex – every day. He's especially fond of bathhouse orgies. He felt a little worn out today, but when he saw Blake's massive, rock-hard dick that swayed to and fro in all its 9-inch glory, he knew he just had to have it in his ass.
As we hear the interview with the boys, we find out that Blake has had some financial difficulties with his car, he needs to get it out of the tow lot, and he needs money badly. As it usually happens with these boys, the conversation switches to sexual things pretty quickly and Blake has a chance to brag about his huge cock. Our casting director Caruso is curious to find out when it was exactly when Blake realized he had a really big dick. Blake tells us a story when he was in junior high school, his physical education teacher told his mom that her son really needed some different underwear because his cock was dangling and shaking all over the place, which made other kids feel uneasy. Luckily, Blake didn't even hear about that story of his ex gym teacher until much later (when he was already 17) and thus it didn't cause him any psychological issues or embarrassment. When he finally did hear about it, it didn't cause embarrassment but quite the opposite – he felt proud that his gym teacher thought his endowment was much over the average.
Blake told us that he took a "blue pill" before this shoot just to make sure that he could stay hard, because after all he's not a professional porn actor. So Blake's cock really does stay rock-hard throughout the entire shoot, and it certainly had a significant effect on Braxton's cock which remained equally hard. After the usual story with the missing girl, the guys are offered twice the cash to have sex with each other. Double the amount of money is something that's not easily refused, and – even though Blake hoped to fuck some pussy today, one can't have all! After all, money is good and he really needed it for his car.
In the next scene, the boys are stroking each other's hard cocks, and you can tell that Braxton is eager to wrap his lips around that Blake's monster. He gets down on his knees and worships Blake's fantastic big erect cock as if it were some kind of deity. Blake seems to like what Braxton is doing to his cock. After all, no girl can ever approach a guy's cock with such reverence and deep care as another dude. Blake then solemnly announces "I'm not getting fucked!". That's not what Caruso had in mind in the first place, anyway… Blake is supposed to be the top. After he was assured his ass would never be penetrated by anyone's cock, Blake agrees to return the favor to Braxton as far as the blowjob is concerned. He gets on his knees and gives Braxton a nice, albeit awkward blowjob. Considering it was his very first time to suck another guy's hard cock, I'd say Blake did a good job, although Braxton thought he deserved only a "C" grade. Practice makes perfect, and we hope Blake will improve his cocksucking skills.
Next up, Braxton's hole is oiled up and he gets on his back with his legs widely spread apart. Then our Kansas boy wants to show us what he's made of, and he can finally use his cock. Blake plows Braxton's tight little hole with wild abandon in several positions. Braxton is happy as a puppy with Blake's 9 inches of hard man meat in his ass, and he moans and groans a lot. Braxton really enjoyed this wild fucking and later told us it was "awesome". Braxton plays with Blake's nipples and strokes his cock until Blake rewards him with a big load that splatters all over his chest.
Preview video:
Click here to watch their complete video in HD quality at Bait Buddies!
Bait Buddies is a pretty hot straight guy site with plenty of updates and some very hot guys indeed. There is always a "bait" dude who is bi or gay, and a straight (or sometimes "straight") dude who needs to be seduced into gay sex.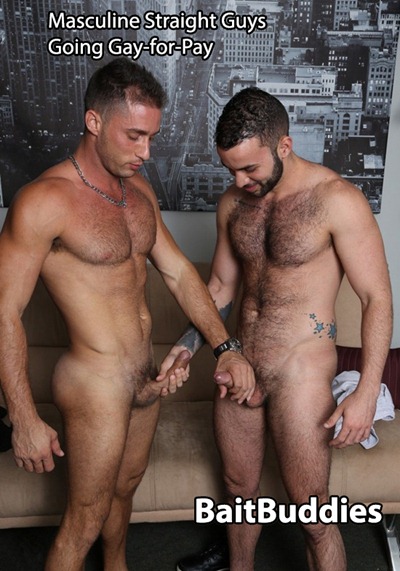 1 Comment
:beard, Blake, blowjob, Braxton Smith, cumshot, fucking, gay for pay, hairy chest, huge cock, monster cock, muscled, nipple play, straight men, stroking cock, thick cock
Click For More...
by Ben Daniels (Admin) on Jun.16, 2015, under Men Over 30
Braxton is having an attack of jealousy regarding his boyfriend Caleb. While Caleb is outside spending time with his friends, poor Braxton is tormented with the thoughts of Caleb's infidelity and adultery. He sends Caleb tons of text messages, which make Caleb angry and furious. When Caleb finally arrives home, the two men start arguing over where Caleb was and who is a cheating boyfriend. Caleb insists that he's innocent and that he only spent time with his buddies in the gym and drinking beer in the café. Braxton is still unconvinced and they keep arguing.
Braxton is unable to fall asleep, still thinking about his boyfriend and whether he still loves him. Braxton knows that a round of good ole sex is all that is needed to fix things, so he approaches Caleb and starts sucking his dick. Caleb slowly wakes up, and immediately accepts the game: the guys switch to the 69 position, and then Braxton impales on Caleb's hot stiff dick. Braxton is no newbie when it comes to hard fucking and he skillfully rides Caleb's rod. After some more hot steamy action, Braxton shoots his load that hits Caleb's chest. Then Caleb follows suit and treats his jealous boyfriend with a generous load.
Preview video:


Click here to watch their whole video in perfect HD quality at MenOver30!
Menover30 is a great site for lovers of more mature and masculine guys in their prime years! If you are into the real masculine men having sex with each other, than this is the site for you!

2 Comments
:69, big dick, blowjob, Braxton Smith, Caleb Troy, facial hair, hairy chest, hardcore fucking, muscled, stiff cock
Click For More...