by Ben Daniels (Admin) on Jan.11, 2019, under CMNM
We continue the story from a few weeks ago about young straight man Bob who wants this new job position so badly (check out the first part here). Now things have become much clearer to Bob, but it's too late! As if it wasn't enough that he was made to take off his best suit and stand stark naked in the middle of that office, Bob's cock has quickly grown fully hard despite Bob's feeling of utter humiliation!
The thoughts of being judged as totally wanton and depraved by all his friends are running wildly through his head. Or, what would happen if his wife ever discovered that he's done some very questionable things in order to get that job? And just when he thinks that things couldn't possibly get any worse, he can feel the interviewer's huge hard cock pressing against his arsehole. The interviewer had no mercy for Bob's ass and fucked him hard until he came all over Bob's white ass cheeks. And while Bob was totally naked, the interviewer remained fully clothed, complete with his suit and tie. He just whipped out his big cock out of the zipper for the occasion. Bob thought the most unpleasant part was over, but that was not the end of Bob's unusual predicament at this job interview…
Check out these pervy men's wanton adventures in their whole videos in HD quality at CMNM.
Clothed Male / Naked Male (CMNM) is a hot porn site where Nervous straight guys get stripped naked, groped and violated by fully clothed men.
There's nothing better than stripping straight lads completely nude, putting their bodies on display, and teaching them exactly how to submit! When they are in such a submissive position, one would be crazy not to use the opportunity and jerk them off.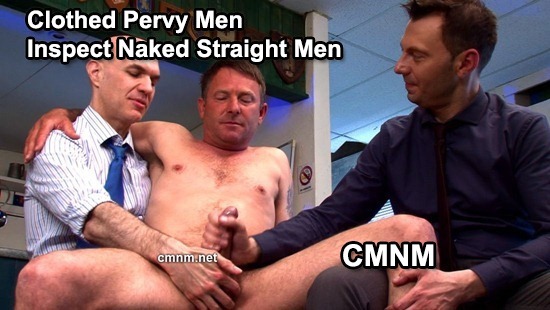 :beard, big dick, Bob, clothed male naked male, cumshot, job interview, lean body, pervy interviewer, pervy men, straight men