Meet Kody! He is an extremely sexy surfer boy with an athletic body and beautiful smile. He works in a popular surf shop in Waikiki. This is his very first nude photo shoot, and he came with his best buddy – his surf board!
Kody is 23-years-old, he is 5'9'' (175 cm) tall and weighs 170 lbs (77 kg). He is definitely a sportsman. He loves living in Hawaii and appreciates the opportunity to play various sports. Playing sports has given him a very sexy, defined body – pay attention to his thick white musclular thighs, round ass and strong arms that he got from wrestling in High School.
Kody is pretty modest about his handsome sexy face and muscled body, but he is certainly proud of his ripped abs. "Women just love them!".
Kody has huge, low-hanging balls which are all salty from frequent bathing in the sea. Check that out – this dude has really great balls!
As much as he likes to expose his body to the sun, his bubble butt has never seen the sun rays – until today!
Kody whips out his dick and starts to stroke it. It's a beautiful sight – a hunky, well-built and sun tanned stud strokes his cock slowly but resolutely. We can see and enjoy his body from all possible angles, thanks to our skilled cameraman.
He gets quite into it and jerks his cock faster and faster, and even breaks some sweat. It's a very erotic shoot actually, with the sun rays falling at all the right angles and this young, manly boy stroking his dick. Yummy.
Short preview video: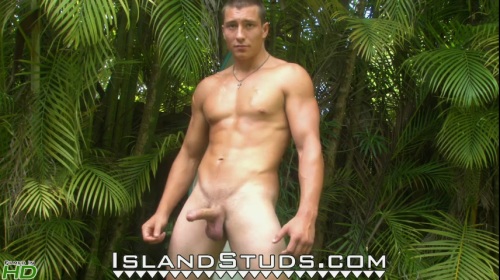 Click here to watch his entire movie in HD quality at Island Studs!
Island Studs is a great, new, and refreshing porn site that features hot guys from Hawaii. These bad boys have no problem with showing off their beautiful, toned body and hard cock. Watch them as they do their usual chores against the stunning backdrop of Hawaiian nature!