by Ben Daniels (Admin) on Aug.08, 2014, under TheCastingRoom
David is a hot straight muscular man who works as a fitness model and he's also into bodybuilding. He has spent a good portion of his life training hard in the gym, lifting hard iron and pumping those muscles to the perfection that he's achieved so far. He emphasizes that strict discipline and firm determination were the key to the success in his case.
Naturally, we were thrilled to have a such a fine hunk in our studio, and the casting director was especially keen on examining him in detail. The main reason David auditioned for our site is that bodybuilding has become quite an expensive sport and he needs some quick cash to continue building his dream. Like we've mentioned, he tried some fitness modeling, but the money is far from enough.
So David decided one day to give porn a try, but under the condition that no other man can touch him in a sexual manner. Oh well, we've heard that before, didn't we? Although we respect his decision, I think we will have to wait and see if this super hot stud is going to become a bit more flexible with the ways he'll be willing to go to cash in on his amazing manliness. 
Click here to watch his entire casting video in HD quality at
The Casting Room!
The Casting Room (formerly known as First Auditions) is a great, original porn site that showcases young, cocky straight men who would like to become porn stars and make loads of cash. They think that they'll be accepted right away and be able to fuck lots of girls, but they don't know that our casting director is very strict and wants to fully inspect them during the audition. He orders them to get fully naked, show their ass, and jerk off so that we can clearly see the cumshot. Plus, we get to hear all their fetishes and what turns them on.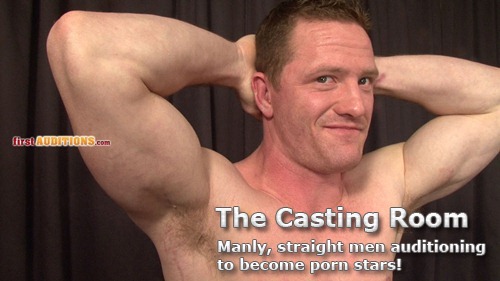 :Audition, big cock, Bodybuilder, cumshot, inspected, jerking off, masculine, muscles, ripped, straight men