Tag: thunder mountain
by Ben Daniels (Admin) on Aug.31, 2013, under SethChase (Porn Actor)
We're back again on the "Thunder Mountain" with Seth Chase and his buddy Evan Parks. Last time we saw how Seth plowed and bred Evan's ass in a nasty hot bareback fuck session. Like I promised, here's a shoot they made previously, in which Evan sucks on Seth's hardened manmeat until Seth shoots his seed and feeds Evan's hungry mouth.
Evan is a cute bicurious lad who likes to try anything in life at least once. He admits he likes Seth's cock as it is so straight and stiff. Not to mention Seth's epic cumshots that can put to shame most of the more famous male porn stars.
This scene was shot on their favorite place for naughty hangouts, and they nicknamed it "Thunder Mountain". You can see more shoots from the same place here.
Anyway, Seth told me that he's impressed with Evan's cocksucking skills, it turned out that this young man actually can suck a man's cock very well. Seth's dick got hard in no time, and Evan's mouth and throat did the rest of the job. Evan swallowed that raging erect dick balls deep, and even licked Seth's balls and the shaft. Obviously, the boy knows how to please a man.
Seth says that occasionally he likes to ask the cocksucker where he wants him to shoot his load. There are some men (especially straight) who don't like to mess with cum, but Evan wanted his load really badly. When I suck a man's cock I usually swallow the load (providing I am sure the guy is disease-free), because a man's juicy load is his essence, and I want to taste it.
So this time, Seth decided not to ask any questions, just to shoot his load straight into his mouth when the time comes, without giving him any sign. Seth wants to unload his heavy balls and shoots squirt after squirt directly into Evan's throat. Evan isn't surprised and takes it all hungrily. The second and third squirt were shot onto Evan's mouth. Evan is still like a lustful puppy and wants to collect every drop of Seth's precious liquid. Even when more sperm starts dripping down from Seth's slit on his cockhead as his cock is getting soft again, Evan collects those drops as well and swallows it.
Preview video:


Click here to download their entire video in HD quality at Seth Chase!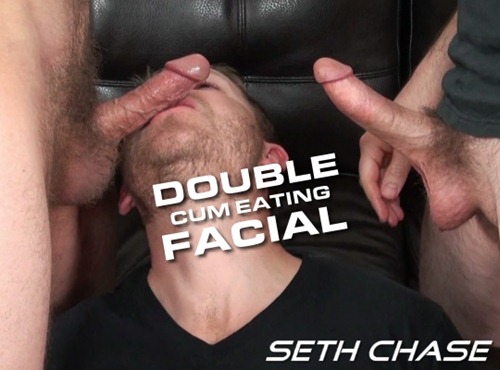 Leave a Comment
:big cumshot, big dick, blowjob, cum eating, Evan Parks, nature, outside, Serviced, sperm, thunder mountain
Click For More...
by Ben Daniels (Admin) on Nov.10, 2011, under SUCKoffGUYS
It was somewhere middle of August when Aaron and Seth decided to make another trip to the Rocky Mountains. The mountain in question is by now legendary thanks to great blowjobs and cumshot videos which they often shoot there (check out the previous movies as well). 
This time around they brought one of the viewer's favorite straight studs, Walker Micheals. Walker recently got injured while he was playing basketball. He could hardly bend his leg and that only in a couple of positions. So we asked him whether he'd like us to put off this shoot for some other time. He refused any thought of it because he said he really needed to cum, it was high time. Besides, he says, it's an awesome feeling when you feel your jizz shooting into another guy's mouth. He says it gets him excited because it's so dirty, which is of course great for us as well!
Aaron volunteered to be today's cocksucker and they start off outside. It started raining pretty quickly so one part of the shoot was done there in the rain. But a bit later they went into the tent.
Walker really enjoyed this blowjob, it was a long overdue cocksucking session and you can tell by his legendary face expressions that he was in the blowjob heaven!
At one moment Walker gives a warning to Aaron "I'm gonna cum soon!". This made Aaron even more horny and eager to show off his cocksucking skills and he was ready for Walker's load. Pretty soon Walker unleashes his torrent of cum, filling Aaron's mouth and leaving a plenty of messy cum on Aaron's beard and moustache.
Aaron is such a cum slut that he wants to squeeze out every last drop of Walker's cum, so he massages Walker's prostate to make him eject everything. He duly cleaned up Walker's cock so that no drop was left at all!
This was really an exciting and interesting shoot on this mountain which we call Thunder Mountain after this event.
Short preview video:


Click here to watch their complete video in perfect HD quality at SUCKOffGUYS!
SUCKOffGUYS is a very interesting and hot gay porn site that focuses on blowjobs, cum eating, cumshots, cum play and all things cum! The site owners are obviously total cum pigs and it shows. Be sure to check them out if you're into beautiful hard cocks, blowing stiff rods and sperm in all varieties.
Leave a Comment
:Aaron French, big dick, blowjob, cum eating, facial cumshot, Rocky Mountains, sperm, suck off guys, thunder mountain, Walker Michaels
Click For More...