Master Guy and Master Derek have found a new sub that needs and wants to be trained. First they force him to lick their dirty, muddy sports dresses, boots and sweaty bodies. They make him focus on their sweaty asses and armpits in particular.
In case the sub disobeys any of their commandments he gets severely punished. The cruel Masters will force him to strip them down using only his mouth. Then they have some nasty fucking in store for him. The slutty sub gets his sorry ass completely drilled and stuffed by the Masters' two big cocks. Furthermore, they take turns, so while one Master fucks the bitch, the other stuffs his sorry mouth with his dick.
Eventually the Masters shoot their loads and fill the little prick with their cum!
Short preview video: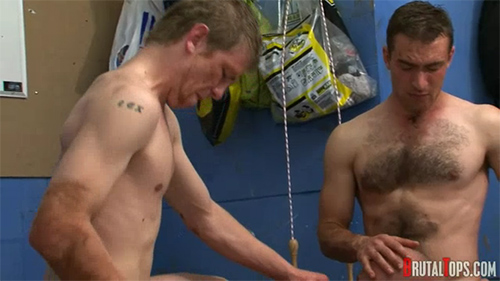 Download this and many other horny new BDSM videos at BrutalTops!
Brutal Tops is a fantastic site for lovers of the most ferocious sexually aggressive doms in the world. These dominant men love to give orders which have to be obeyed!