In June last year we featured the first appearance of hot masculine sales agent Pascal (you can check out that post here). This is a bonus video from that shoot, which contains an unexpected bonus blowjob for Pascal.
So, Pascal got a handjob for his big stiff cock and that was the official first video from this shoot. However, the guys from Keumgay wouldn't let such a good masculine man go just like that, so they urged him to stay a little longer. They ended up swallowing greedily his big fat cock that seems to have hypnotized everyone present there! All masseurs were eager to get a taste of that amazing rod. Pascal was in shock, and couldn't believe there were such guys who would be so eager to suck his cock… ha!
As you will be able to see in the video, the masseur and director offer Pascal a blowjob, and you can tell that he is embarrassed. He keeps smiling, but it's not something that he is comfortable with. He didn't flat-out refuse, but it's obvious he didn't like the idea of a guy's mouth doing anything with his cock. The camera was left rolling during this unexpected situation, and the guys assured Pascal that whatever footage they made during the blowjob, it would be considered to be just "off the camera" footage, which means something unofficial and not for publication.
Pascal was surprised how good it felt to have his dick sucked by two greedy gay guys. He said it was something he would never even dream about, but despite that he loved every minute of it. Pay attention to his massive balls moving around while the Keumgay guys are playing with his cock as if it were their toy. It's obvious he enjoyed all that sucking and balls licking because he didn't care to tell the guys to stop, and they sucked him off for quite a while!
Preview video: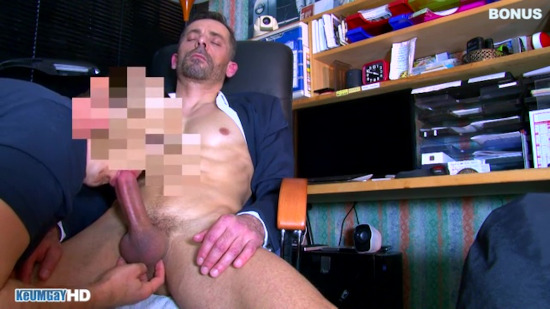 Click here to watch or download their entire video in HD quality at Keumgay.