This is one of those shoots that go their own way, which was not intended but turns out better than the original idea. We invited two straight studs Vicent and Michael whose task was to test out our brand new cocksucker.
The two studs were waiting for the cocksucker to arrive. The cocksucker was pretty late and the two studs were pretty bored waiting. Eventually the cocksucker sent us a text message saying that he was lost coming from the subway.
I let the cameras rolling and told the guys to get warmed up while I go downstairs to get a new cocksucker for them. However, the guys didn't just get warmed up, they began to do something so hot that they couldn't just stop!
When I returned I saw what they were doing and I thought it was amazingly hot so I didn't want to stop them. I took the flash out of the camera so as not to disturb them and continued to shoot them only with the camera.
Since I didn't use the flash throughout the entire video there are not many high resolution pictures, but the video is as hot as it gets! I did manage to make some more still pictures towards the end though.
Well, nothing better than two straight guys getting horny with each other – spontaneously!
As far as the new cocksucker is concerned, you will see him in the next movie. As the punishment for being late, we forced him to suck a guy whose dick is 11 inches long! Needless to say he got his mouth and throat chock full of hard cock!
Preview video: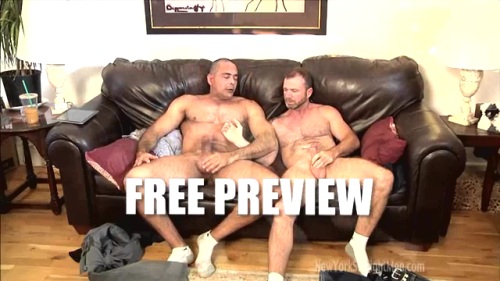 Click here to watch his entire video in perfect HD quality at New York Straight Men!
New York Straight Men is the world's biggest collection of straight men getting their blowjobs from gay dudes! These men are usually truly straight but they love getting head from a gay guy because it feels so much better than whatever their girlfriends can do. These men are not the Hollywood type cuties, they are Real Men!