Rob from Militaryclassified thought it would be appropriate to celebrate the 19th anniversary of his site by bringing back one of the Most Wanted guys ever – Dwight. Dwight used to be in the Navy, and since his previous appearance we haven't seen him for 9 years. And boy oh boy has he grown into a real man now. Rob remembers him as a conceited snotty kid, but now he's much more serious and grown up.
Dwight told Rob that he couldn't forget just how good his blowjobs were, and that he was looking forward to getting more of the good stuff.
So the two guys were chatting for a while and then Rob switched on the cameras while Dwight kept playing with his dick which he pulled out of his pants. Rob couldn't resist the temptation and quickly got on his knees and started to suck on that military tool.
Dwight's cock is almost 9 inches long, so Rob started off slowly. You can tell that Dwight definitely enjoyed all this because he closed his eyes, kicked back and just went with the flow, enjoying the long overdue blowjob after almost one week of abstaining from jerking off.
Soon enough, Dwight's dick became fully hard and Rob started to choke a little when trying to swallow it balls deep. However, Rob didn't want to give up, and pretty soon he was able to deep throat that sucker the way he wanted. Pay attention to Dwight's face expressions when he sees Rob taking his tool all the way.
Rob increased the pace of the blowjob and also put on some lube onto Dwight's cock and his hands. He alternated between the blowjob and using his hands, which proved to be a winner combination that quickly drove Dwight to the point of no return.
Moments after that we can see Dwight becoming restless, his leg moving left and right, and when his arms became stiff he let out his breath and shot a big load straight into Rob's mouth. He didn't even warn Rob about the impending explosion. He just blasted a load into his mouth and Rob managed to catch it all on tape.
Preview video: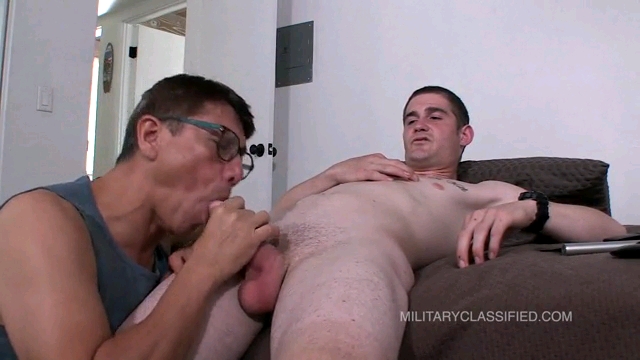 Click here to watch or download his entire video in HD quality from Military Classified.
Military Classified is a well-known straight guy site that features lots of military men (marines, navy men, Air Force servicemen and an occasional civilian guy as well). At the moment of writing this mini-review there were more than 420 videos of various guys in the content area of the site! Of course, the guys are always horny and eager to bust a nut. While for some the primary motivation is money, there are also many guys that are curious to see for themselves if it's really true that men suck cock better.