by Ben Daniels (Admin) on Apr.13, 2014, under BaitBuddies
Scott Cage is a hot, straight dude with a magnificent huge dick. Scott calls his cock "D", which we'll describe in more detail a bit later.
Scott is your typical redneck boy from Carolina who likes surfing, body boarding, tubing and boating among other things. All this physical activity has made his body fit and sexy-looking. Actually, it wouldn't be fair to leave out Scott's favorite sport from the list of his activities, which is, of course – pussy hunting!
Scott even has his very own way of categorizing various types of pussies that I must say I've never heard before from anyone. For instance, blond girls are called bimbos, redheads are deemed to be adventurous and always ready for sex, and blonds are, in his opinion, air heads.
There's a story he wanted to tell us, about a certain "Lucky Lucy", a redhead girl who was very popular with the boys (his buddies). They could always count on Lucky Lucy for getting a blowjob or sex. He also adds that most women that he has met so far are mostly interested in his "D", or that huge snake between his legs. Well, little wonder considering how huge it is! It measures no less than 8 inches and it's somewhat curved. I don't know if it's due to his big dick or it's just innate, but Scott comes across as pretty cocky straight boy with a definite attitude. He likes to brag about his cock, of which he's obviously very proud. Somewhere in the middle of the interview with the casting director, Scott even goes on to say "I'm sexy as hell." I must say I dig this kind of straight boy attitude with a certain cockiness and confidence that's always in the air. It gives them some kind of irresistible aura of sureness, but at the same time it's also a bit tongue in cheek and we all know that. I mean, it doesn't make him conceited or arrogant, it's just sexy.
Scott is certainly a tough nut to crack so to have any kind of success with bending this boy to the gay side of things, Caruso knew he had to resort to the best type of baits, so he called Andrew – a very cute, handsome and charming young man with dreamy blue eyes and hot fit body. Andrew is always eager to get his hole stuffed by a big straight dick, and today it was a perfect opportunity to make that dream cum true.
The guys are told to remove their clothes and, when the news is brought that the alleged girl won't be coming, there remains only one possibility for the boys to make money – the double amount as a matter of fact – and that's to have sex with each other.
One might expect that Scott, being so cocky and full of himself, would object to such a turn of events, but actually he liked the idea and especially the money part seems to have warmed his heart quite a bit. So here's Scott's first gay for pay video for you. Despite the awkwardness of this straight boy's first gay steps, and his initial distaste for sucking cock, everything went well in the end!
There's also some hugging, kissing and of course cocksucking was particularly interesting. Just watch while Andrew is trying to put as much as he can of Scott's massive schlong into his mouth and throat. Scott then inspects Andrew's ass and concludes that, "I wouldn't mind ramming that."
So Scott shoves his big weapon straight into that eager hole and Andrew starts riding it like a pro. Next up, Caruso tells the boys to assume a different position – with Andrew on his back so that Scott can have a better approach to his ass and fuck him deeper. Now Scott really bangs Andrew's ass hard and Andrew groans and moans like a girl having her first orgasm. Soon enough, Andrew can't hold it any longer and spews his load all over himself. Then Scott follows suit by stroking his tool and shoots a load all over Andrew's belly and cock.
After the fuck was over, Caruso asked Scott whether he would do it again, to which Scott replied with, "Yeah. Would that make me gay?" Caruso said, "It makes you sexual", which seems to have been the answer that Scott wanted to hear. Scott says, "I'm down with that"…. and I guess we'll be seeing him again pretty soon!
Preview video:


Click here to watch their complete video in HD quality at Bait Buddies!
Bait Buddies is a pretty hot straight guy site with plenty of updates and some very hot guys indeed. There is always a "bait" dude who is bi or gay, and a straight (or sometimes "straight") dude who needs to be seduced into gay sex.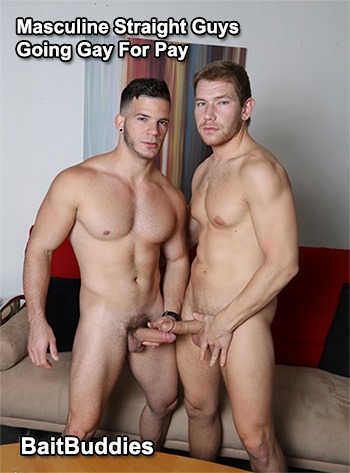 :Andrew Collins, blowjob, cumshot, curved cock, fit body, fucking, gay for pay, handsome, huge cock, kissing, Scott Cage, thick cock