Rob is a straight doctor who suddenly finds himself fastened on a special examination chair so that his hot, hairy body is visibly exposed for everyone. Also his asshole is easily available for examinations.
The nasty men who captured Rob are bent on turning this conceited, arrogant straight doctor into an obedient and well-mannered servant. They shave off the hair on his asshole and forcibly fill his bowels with water.
While he is instructed to keep the water in his ass, the nasty men flog his feet and keep telling him how they are going to teach him obedience.
When he is finally allowed to release the water from his ass, the captors begin to finger his asshole and stretch it with a fucking machine.
Then they clamp his dick on its foreskin and his nipples, and his eyes are forcibly restrained so he can't close them. He is forced to watch his captors fucking him hard and there is no way he can avert his look. Soon enough this arrogant straight man will know his place.
Short preview video: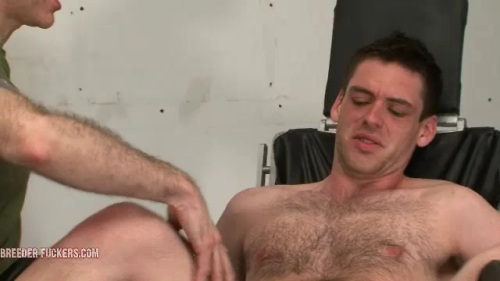 Watch new videos of arrogant straight men being turned into obedient cocksuckers at Breeder Fuckers!
If you prefer your porn to be on the kinkier side, you should definitely check out Breeder Fuckers (formerly known as Straight Hell). Breeder Fuckers is a premium fetish site devoted to hot straight guys being tormented, humiliated and treated without mercy by big, mean & aggressive studs!