by Ben Daniels (Admin) on Jun.08, 2019, under CumClub
Ashton is a hot and sexy straight guy who wanted to experience how it feels to get a blowjob from a guy. He is a handsome dude, with attractive face, lean and fit body, and a massive uncut dick to match!
Of course, this is the first time Ashton got a blowjob from a guy, and his first time in front of the camera in general. Aaron volunteered to suck off this guy and so he first drops to his knees, pulls down Ashton's shorts and Ashton's beautiful uncut cock pops out. Aaron gets down to business immediately, hungrily slurping all over that big uncut dick. Ashton achieves full erection in no time and we thought he really enjoyed the entire blowjob, from start to finish!
Aaron has a special technique whereby he alternates between stroking a man's cock and sucking it. He wants to make sure that Ashton gets his full satisfaction out of this blowjob. Ashton's breathing gets heavier and more rapid as the blowjob continues. Ashton is oozing precum from his cock by now, and he rubs it onto Aaron's lips. He then starts fucking Aaron's face – you can tell he loves doing that and gets turned on even more as he does it. When Aaron gags and then even more hungrily slobbers all over Ashton's rod, it makes Ashton horny as hell.
Ashton's dick is really big, and we can understand why Aaron's eyes tear up. Ashton was pretty relentless in his face fucking assaults on Aaron's throat, and Aaron had to obey and swallow it completely at some point.
Little by little, Ashton is approaching the point of no return, but he keeps fucking Aaron's mouth with relentless forcefulness. Aaron licks and strokes Ashton's cock a few more times, and then it explodes! The approaching "cum storm" was pretty intense, and Ashton's face expression just before he busts his nut is priceless. And it's so fucking hot!
Ashton's first squirt flies through the air and lands on Aaron's mouth and his face. Aaron keeps sucking and deepthroating that precious straight cock even after Ashton shoots his load. Ashton also keeps fucking Aaron's face, as if he wants to make sure that every last drop of his jizz will be swallowed.
Needless to say, Ashton was very satisfied with this blowjob and said that he couldn't wait for more!
Preview video:
Click here to watch or download their entire video in HD quality from CumClub!
Cumclub is a brand new site from the same guys who used to make sites such as Suckoffguys and Barebackplace. Now they are back with brand new site Cumclub and they will continue to showcase their blowjob and cum-related adventures as they travel all around the country.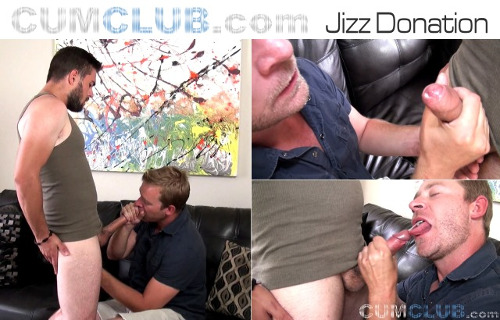 :Aaron French, Ashton, big dicks, cum eating, deepthroating, first gay blowjob, foreskin, jerking off, sucking off, uncut cock