by Ben Daniels (Admin) on Aug.09, 2019, under TheCastingRoom
Kristoff is a tall, manly and handsome motherfucker who wants to become a porn star! With his tall stature, manly looks and muscular body he looks like a wrestler who might knock you out with one blow. However, behind the intimidating outward appearance there is hidden a soft, pleasant personality of a truly caring guy who just wants to make you feel as loved as possible and to give you as much pleasure as he can!
Kristoff is very well-endowed with a big, thick dick that looks impressively large even on his tall body. His arse is also big and in proportion to the rest of his amazing body. Although he has some experience in porn, Kristoff wants to broaden his horizons and seek new creative ways to expand on his fetishes that he's so fond of. He wants to be able to transfer the intensity of his orgasms to the public that watches him.
Click here to watch his entire video in HD quality at The Casting Room!
The Casting Room (formerly known as First Auditions) is a great, original porn site that showcases young, cocky straight men who would like to become porn stars and make loads of cash. They think that they'll be accepted right away and be able to fuck lots of girls, but they don't know that our casting director is very strict and wants to fully inspect them during the audition. He orders them to get fully naked, show their ass, and jerk off so that we can clearly see the cumshot. Plus, we get to hear all their fetishes and what turns them on.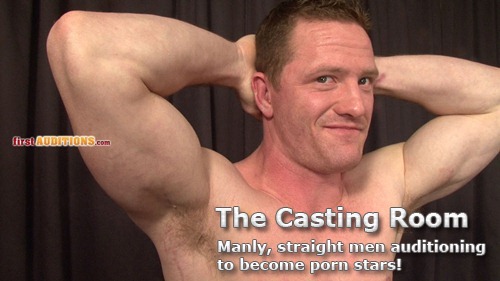 :aspiring porn star, beard, big cumshot, big dicks, Big feet, blue eyes, handsome, jerking off, Kristoff, showing ass, smile, straight men, tall guy, thick cock