You may remember hot Redhead called Riley Rodriguez from his video in which he appeared with his buddy Eros some time ago (check out our post about that here).
Well, Riley is now finally back for his third video for Islandstuds! This guy emanates positive energy all the time. He is always on the move, friendly towards everyone, great fun and, of course, perpetually horny as well! Riley is a mixture of Puerto Rican, Italian and American genes.
But probably the asset that Riley is most well-known for on Islandstuds is his big and stiff belly slapper. He keeps walking around in nature with his erect dick, while speaking Spanish fluently.
Riley is fond of showing off his hairy body, and by the riverside he did a lot of muscle flexing, posing naked and playing with his ample foreskin. He juggles naked for the first time – masterfully managing to handle 3 large grapefruits and fire clubs, while his big low-hanging balls keep slapping against his big thighs. Riley also demonstrates Naked Yoga for us, and then takes a long satisfying piss – twice.
Riley likes to joke with his sexuality and says "You can pop my Fire Cherry!" He is always super friendly and smiling – check him out while he is juggling grapefruits totally naked in the sun and singing to the camera, while his cock and balls keep dangling around in the sunner breeze!
Riley currently studies Theater Major in Portland College. He says he is bisexual. Also, one of the assets that he is very proud of and likes to show off for the camera is his shoulder-length shaggy curly red hair – and yes we can confirm that the carpet matches the drapes because Riley's hot balls and cock are surrouneed by a nice bush of ginger-red hair as well!
Riley was born in the Surf City of Rincon, in Puerto Rico. He is 27 years old, his height is 5'8" (173 cm), he weighs in at 140 lbs (64 kg) and his body is muscular and lean.
Watching this video in its entirety you will find so many unrehearsed, spontaneous moments with this energetic fella.
If you haven't seen his first solo jerkoff video, and his duo scene with Eros, we'd suggest you check those out, as they are a lot of fun to watch, too!
Riley says that he loves to show off his ass as well. He kept demonstrating Ass Play for the camera – including the full exposure of his pink tight cherry manhole! Gotta love the look of that tight ass along with his balls hanging below his smooth ass cheeks!
Watch him as he walks by the river carrying a blue river raft, climbs on it and then falls asleep even though he is naked in the public place. When he wakes up, he stretches his limbs and gives us another good opportunity to see his low-hanging balls and tight hole covered with ginger hair. He then turns around, spreads his legs wide open, and lets the camera take more shots of his yummy manhole.
Riley peed twice in this video. The first time, he played with his solid stream of pee, trying to "draw" some art in the sand with his pee.
In the second pee scene, he went out of the River reeds, and wasn't actually aware that he was being filmed. He lets his golden shower splash onto the sand below, sprinkling his bare feet as well.
This was a very entertaining, relaxed, somewhat different shoot in nature with the ever friendly hunk Riley. We hope you'll enjoy it.
Preview video: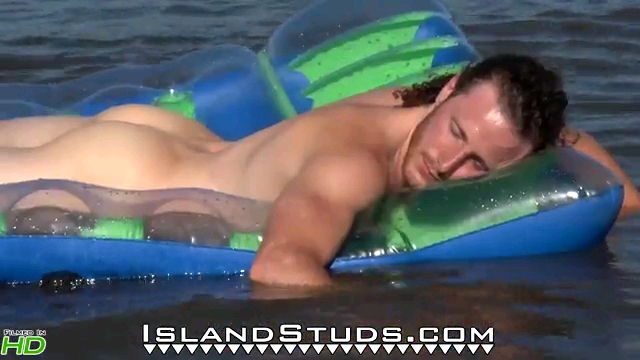 Click here to watch their entire movie in HD quality at Island Studs!
Island Studs is a great, new, and refreshing porn site that features hot guys from Hawaii. These bad boys have no problem with showing off their beautiful, toned body and hard cock. Watch them as they do their usual chores against the stunning backdrop of Hawaiian nature!