Today we're going to take a closer look at five hot straight guys from the UK: Rich Wills, Cameron Donald, Sam Hansworth, Wesley Seaton, and Carter Lewis.
First we have straight muscular builder Rich Wills. He's an old friend of ours and today he decided to make a video of himself while he was at work painting a house. As it often happens, Rich began to feel very horny and he thought it would be cool to film himself and share all the hot action with us! Rich takes off his clothes, and then shows off his amazing muscular body. He's a really buff guy: strong quads, big arms and that hairy hole is especially inspiring! Rich has a huge uncut cock that gets hard easily and stays rock-hard as long as it takes! He shows us how he likes to stroke his massive hard-on. After some time, Rich shoots a nice load all over the floor, enabling us to get a great view of himself from a close-up shot. While he was wanking, there was a risk that he might be discovered by someone who came in, and this danger made him even more horny. So much so, in fact, that he had to do a second wank right after the first one. The second time he shot his load all over himself, making a huge sticky mess! Super hot guy and two super hot jerkoff sessions at work!
*****
Nick from Englishlads managed to recover a previously lost hard drive and thanks to that we can enjoy this unreleased footage with Sam Hansworth and Cameron Donald. Sam was feeling horny and wanted to experiment with new things, and Cameron was happy to lend him a helping hand with that! The two guys exchange friendly banter, and joke about who is going to suck cock first, and who's going to receive a cock in his ass first as well. They wrestle a little over this question, and Cameron turns out to be pretty dominant. This is no wonder because at 86 kg he is more than 12 kg bigger than Sam. Sam doesn't despair over losing this battle at all, and happily starts sucking off Cameron's cock! So soon enough we have two hard uncut cocks one next to another! What else can you do with two hard dicks but engage them in a cock fight?! After some more jerking off and sucking, Cameron sticks a purple dildo into Sam's hole and keeps fucking him with that dildo for some time. Sam loves the sensations from the dildo in his ass. Cameron thinks it's a perfect opportunity to shove his cock into Sam's hole and he does it in the doggie style. The guys make some funny faces and weak moans, but Sam's hole really receives a nice proper fucking. Cameron didn't spare Sam's ass and fucked it nice and hard. After some time Sam shoots his load while Cameron wanks him off. Who said straight guys can't fuck each other?!
*****
There is another hot video that got recovered from the lost hard drive, and this one is with Wesley Seaton and Cameron Donald. Wesley was determined that he would do nothing except a solo shoot, but over time he began to like the idea of working with another guy and experimenting a little. Wesley first takes off his clothes, leaving only his boxers on and then lets Cameron do his massage-magic on his hot naked body. Soon enough, Cameron gets rid of Wesley's boxers and keeps massaging him while he's completely naked. He shows off his hole – we can see a virgin straight hole surrounded by a light blond buzz! Soon enough, Cameron is stroking Wesley's extremely hard and stiff uncut dick. Not wanting to be selfish, Wesley grabs Cameron's uncut cock and returns the favor! There was a lot of jerking off exchange between these two hot guys, and eventually Wesley busts his nut.
*****
And last but certainly not least we have our old friend Carter Lewis. This hot muscular gymnast now looks better than ever with his strong, massive muscles which he loves to show off for the camera. In this video, which he made himself, he lets us into his home. He takes off his clothes and lets us admire his strong physique. Then, Carter reveals his little secret: a newly found favorite toy – a big hard dildo! Carter performs several more of his acrobatic moves while being completely naked, and then focuses on stroking his huge rock-hard dick. All the while he keeps fucking his ass with the big dildo – that straight hole definitely got a nice dildo-pounding! Carter comes close to the point of no return and then, after a few more moments, he splatters his jizz all over the place! That was a fantastic home video, Carter!
Rich Wills
Sam Hansworth & Cameron Donald
Wesley Seaton & Cameron Donald
Carter Lewis
PREVIEW VIDEOS: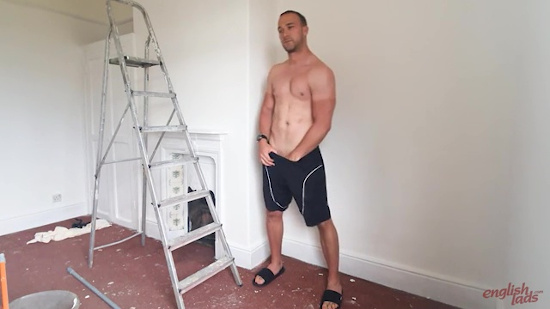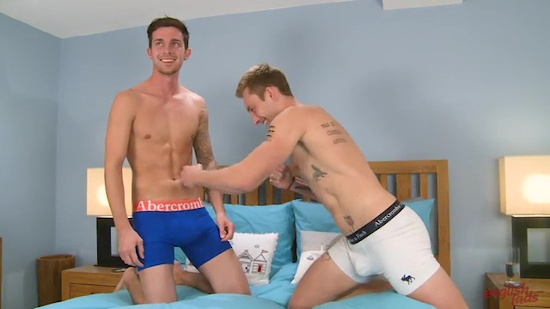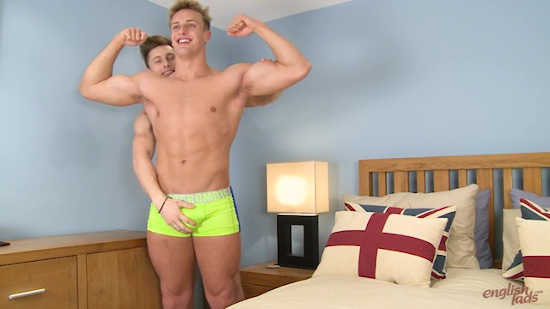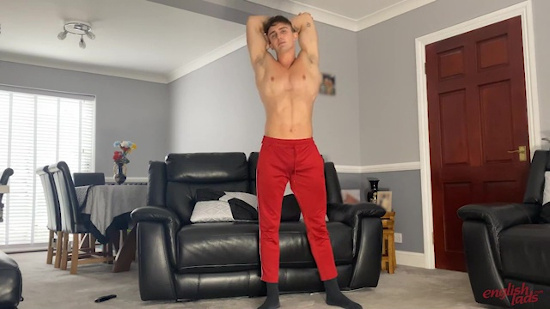 Click here to download their entire videos in perfect HD quality at EnglishLads!
English Lads is a fantastic site with loads of very manly, straight lads from England who love to show off and jerk off for the camera.  The guys that appear here are usually not found on any other site, so the content is quite exclusive. All movies are in HD quality.