Ty is a hot straight Marine who wanted to earn some easy cash and try some new things. He decided not to tell any of his buddies about his little porn adventure for now, and overall he did seem a little nervous. Which is not unusual for hot straight guys that we usually see on camera!
Ty is quite inexperienced when it comes to the things that are considered almost normal stuff among the military men. He had never got a happy ending massage, neither from a woman nor from a man, so it's quite understandable he was a bit nervous in the beginning.
We find Ty standing almost naked and wearing only a towel. Jason asks him to remove the towel and make himself comfortable on the massage table. He did that and closed his blue eyes for a minute. Jason spreads his legs wide and reaches for the already throbbing dick under him. Jason didn't forget the important detail from Ty's previous solo jerkoff session when Ty pushed one of his fingers into his ass. With that fact in mind, Jason starts to finger Ty's hole with his fingers, and Ty releases a quiet moan of approval. People who are into asses will love this part of the video. Ty's smooth butt cheeks and hairy ass crack are really fantastic.
Jason then had Ty turn on the other side with his chest up. Ty's cock was fully erect and stood at full mast, throbbing with intense desire for release! But, a massage job is a massage job, so Jason proceeds to rub Ty's powerful legs, arms and chest first. Then he focuses on Ty's pulsating cock. He puts Ty's cock firmly into his hand and starts stroking it. Ty made face expressions like he was enjoying himself.  When asked if he liked it, he replied with "Oh, yeah," – with a smile!
Jason increased the pace of stroking Ty's dick and even stuck another finger into Ty's hole. Ty loved it and gave another sign of approval. Jason couldn't resist the temptation of trying to put Ty's cock into his mouth, so he finally did just that, but he also used his hands to make Ty cum. When he thought he was close to cumming, Ty's breathing got faster, but it turned out he needed a bit more work to shoot it.
Jason lubed up Ty's cock and massaged his prostate to make him cum. This was the winning combination, and Ty's entire body soon began to twitch. "Here it comes!" he said with a gasp before shooting a HUGE load all over his stomach and chest!
Preview video: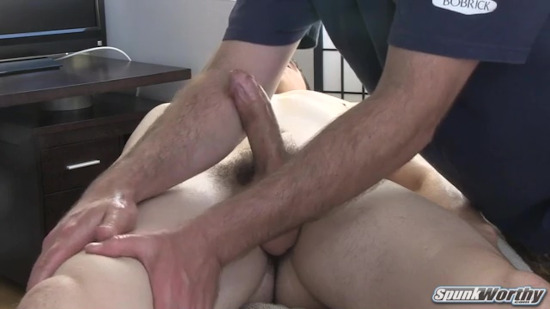 Click here to watch and download his entire video in HD quality at SpunkWorthy!
SpunkWorthy is a great porn site that features younger straight amateur dudes. Lots of truly straight military guys doing gay for pay only once or a few times! This site is usually the first and only place where you'll see these bad boys, so don't miss out!