Today we are going to take a closer look at five hot and sexy straight guys from England: Milo Fitzroy, Finn Loftus, PT, Mike Hughes, and Stu Davies.
Milo Fitzroy is the brother of Rufus Fitzroy, and this was his first appearance on Englishlads. And what a hot snd sexy boy he is! This straight lad has musculsr body, hairy legs and chest, hazelnut eyes and a big uncut dick to match! His dark brown features and handsome face make him quite irresistible. He enjoyed showing off his muscles, huge traps, as well as that pert peachy butt! It definitely looks like all that swimming has paid off.
Milo first demonstrates a short workout session, and then he takes off all his clothes and strokes his cock to a full, throbbing erection! He sits on the floor and keeps stroking that hot cock until he shoots his jizz all over himself! Dang, that whole thing looked so effortless!
After jizzing himself and making a bit of a mess, Milo heads straight to the shower where director Nick follows him with the camera. There is also a great pissing scene in the bathroom. That was really impressive, Milo, and maybe we will see you with somebody else in a manhandling scene next time?
*****
Straight lads Finn Loftus and PT are back again to further push their boundaries… and as we will see soon, they are now naughtier and kinkier than ever! PT demonstrates how dominant he can be by tying Finn up with a rope. He then spreads his legs and starts invading Finn's asshole with the small dildo. However, the small dildo is soon replaced with a bigger one, and the dildo-fucking continues unabated, along with a healthy dose of spanking.
Finn keeps moaning, which suggests that he enjoys being on PT's receiving end snd being dominated. Then both lads start wanking their cocks, side-by-side. They keep flirting with each other and playing with each other's nipples.
Finn was the first to cum and he shot a pretty explosive load all over the place, hitting both his and PT's leg! PT then gets into full cockstroking mode and shoots a thick and sticky load all over his hand!
*****
And last but not least, we have two horny and very naughty straight boys: Stu Davies and his hot mate Mike Hughes. Stu confesses that he is pretty much always horny and always willing to shove his big uncut cock into a willing hole. Thankfully, Mike is equally willing to offer his ass to his buddy. But first, Mike gives Stu a nice, thorough deepthroating.
Stu then bends Mike over and fucks him hard. The two guys change quite a number of positions, and Stu really gets into that beast-fuck mode, fucking Mike like a horny bunny.
Mike's cock remained rock-hard throughout the entire fucking session, his balls dangling in all directions while Stu was pounding his ass! Stu then gets imaginative and ties Mike up with a rope, and continues to fuck him hard until he dumps his load inside Mike's ass.
But it's still not over, Stu turns Mike over and fucks him again in the doggy style. He pulls out just before shooting his second load, which splatters all over Mike's back and ass. Mike then wanks his cock and cums all over his abs, and then gives Stu a big wet kiss!
Milo Fitzroy
Finn Loftus and PT
Stu Davies and Mike Hughes
Preview videos: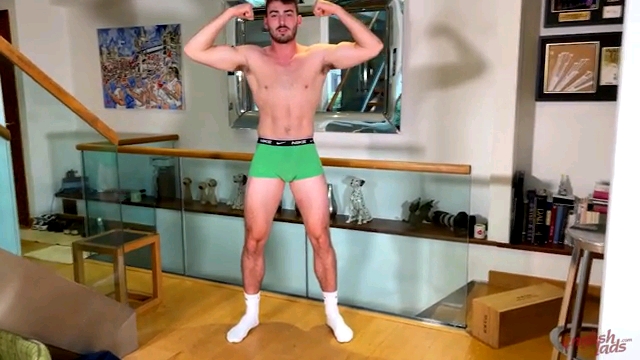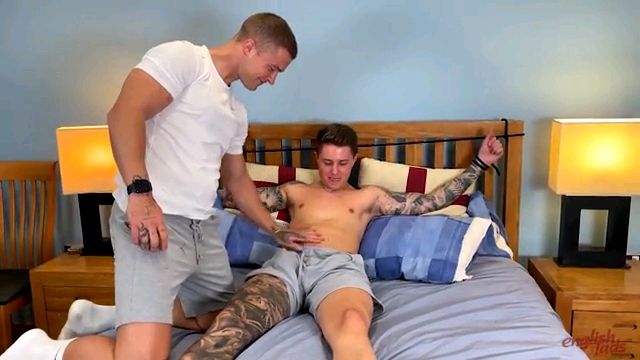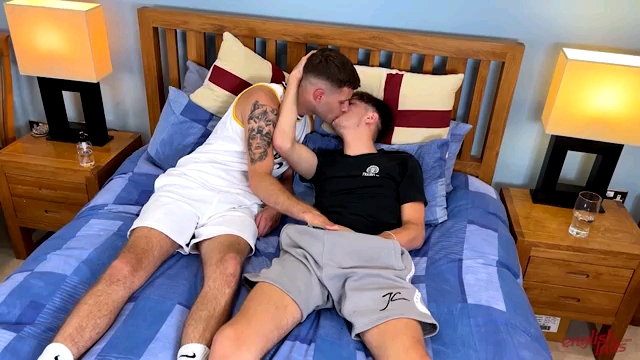 Click here to download their entire videos in perfect HD quality at EnglishLads!
English Lads is a fantastic site with loads of very manly, straight lads from England who love to show off and jerk off for the camera.  The guys that appear here are usually not found on any other site, so the content is quite exclusive. All movies are in HD quality.