It's high time we visited yer another hot classic blowjob video from NYSM. And this time round, we decided to feature mature HS football coach Chet!
Chet is in his late 40s and looks like your typical athletic, suburban dad. He sports a 1970's style "pornstache", he is married and has a couple of kids. Outwardly this sexy daddy looks like a pretty standard football coach, but Chet has also a secret, kinky side to his personality. Namely, he really loves to get blowjobs… and he's not picky about whether the person who will suck his cock is male or female, as long as that person knows well how to suck a cock. He's already gotten one great blowjob from Sergio and realized that this cocksucker definitely knows what he's doing! Chet had to come for more!
The NYSM team found The Coach while he was at the Stadium where he went to watch his favorite baseball team play (and it won the game). Chet was happy to see the NYSM guys and decided to drop by their headquarters while he was on his way back out to the Long Island.
The Coach said that his balls were full and that he really needed a good cocksucker to take care of that. When he realized that Sergio was the resident cocksucker for that day, Chet was thrilled. That last blowjob that he also got from Sergio was mind-blowing, and he counts it among some of the best BJs ever. Sergio definitely knows how to handle Coach's big fat dick and was eager to wrap his mouth around it and swallow it completely!
So, The Coach kicked back and let Sergio, who was kneeling between his legs, do his magic on his cock. Sergio knows his place – he's a cocksucker and that's what his job is – to suck cock! Sergio proved yet again to be a very skilled cocksucker, and he even deepthroated Chet's fat cock many times during this session. After having gotten a thorough and professional treatment for his swollen cock, The Coach's climax was pretty intense, and he sprayed his load all over his hairy stomach!
We made sure to include quite a bit of this classic blowjob video in the EXTENDED PREVIEW VIDEO below, so if you like these NYSM blowjobs, you should definitely check out the entire video at their website.
EXTENDED PREVIEW VIDEO: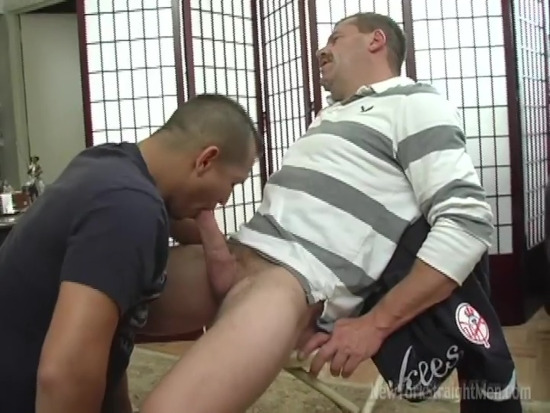 Click here to watch their entire video in HD quality at New York Straight Men!
New York Straight Men is the world's biggest collection of straight men getting their blowjobs from gay dudes! These men are usually truly straight but they love getting head from a gay guy because it feels so much better than whatever their girlfriends can do. These men are not the Hollywood type cuties, they are Real Men!