Here are some new adventures that have recently transpired in the Keumgay studio.
Alex, our well-known ripped sports equipment salesman, was supposed to make a massage video, but the Keumgay assistant Sam was around and, after some friendly persuasion from the second assistant, Alex thought it would be appropriate to jerk off Sam's big cock and then to suck it as well!
So this video started off as a massage video, with Alex as the person that wanted to get a massage, but assistant Sam couldn't resist the temptation to play with this handsome jock's cock and big balls. It's obvious that Alex was uncomfortable and didn't even want to look at the handsome jerk off helper, probably because assistant Sam is also a handsome hung masculine man like himself, and, being a straight guy, Alex didn't want that type of temptation.
Eventually, Alex gave in and allowed assistant Sam to stroke his cock despite his reluctance. However, soon after that the second assistant appeared behind Sam, and took charge of the situation, pulling down Sam's boxer shorts to show Alex that Sam has a really big, long cock and impressicely large balls. Alex couldn't resist this temptation and reached towards Sam's cock and began to stroke it.
As time went by, Alex became more enthusiastic and eagerly stroked handsome assistant Sam's large cock. Sam's body is very muscular, and he's a real epitome of a masculine muscular athlete. Alex grabbed Sam's cock and sucked it hard as if his life depended on it, while at the same time the second assistant stroked Sam's big pectoral muscles, and then also his big juicy balls.
Sam's long thick dick was thoroughly milked, with Alex's mouth working at full capacity! And then Alex jerked him off until Sam finally shot his load straight onto Alex's ripped torso. It seems that Alex really enjoyed being splattered with so much semen from this handsome hung virile jock.
Preview video: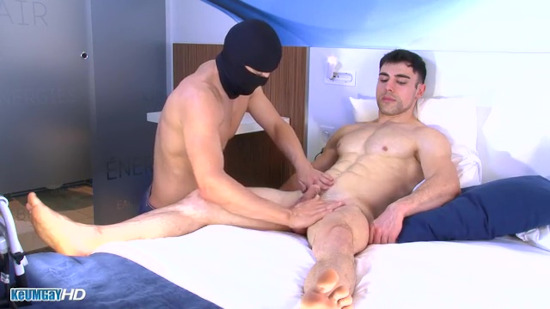 Click here to watch or download their entire video in HD quality at Keumgay.