Gene said he had never used a sex toy before, but that he had heard of the Fleshlight. One of his Marine buddies had brought one on deployment. When I asked if he wanted to try one out himself, he flashed an eager smile with a big nod.
Like in his first shoot, Gene's dick was hard in a matter of seconds. He's one of those guys who gets rock hard at the slightest breeze and it stays that way even after he cums. It really started throbbing once he lubed up and slid the IceJack down his cock.
He's definitely on the quiet side, but let out a few good grunts. Especially when he propped up the IceJack on some pillows and started thrusting his hips into it.
It had been a few days since Gene had busted because he had been out in the field training and too busy to jack off. Lucky us! He shot a high-flying creamy load all over his stomach.
Short video preview: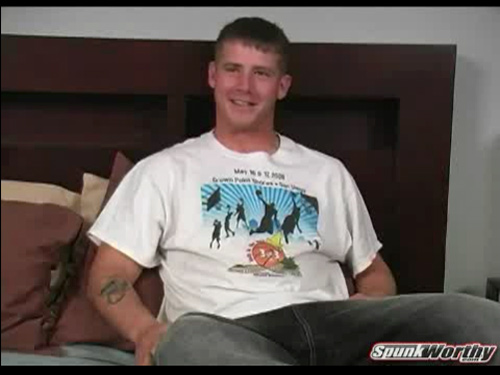 Watch as Gene blows loads of hot cum all over his chest and stomach!
SpunkWorthy is an amateur site which has tons of real straight amateur lads that you won't find anywhere else!