Jimmy wasn't at his home in NYC for some time. He went to work on a ranch out west giving riding lessons (he's a horse trainer and works in the equestrian department for NYPD and NYC Parks).
But now, he is finally back in NYC and works with the stables in Central Park. I was especially pleased to hear that Jimmy was back because he is one of my favorites. Jimmy is not only good at training horses, he also knows how to properly train a cocksucker so that he gets the best possible service!
Jimmy is not a great consumer of porn, believe it or not. But he likes to come and shoot for our site because he knows he'd be getting the best possible service and an amazing blowjob every fucking time. Besides, a bit of cash won't hurt anyone.
Jimmy is unaware of the lights and cameras. He focuses on his blowjob and on how the cocksucker licks and swallows his dick. That's all that matters to this urban cowboy.
He told us he did get one blowjob 5 months ago from a guy who also worked on the ranch. The guy begged him to suck his cock and Jimmy finally gave in. Jimmy whipped out his cock, leaned up against a tree and let his cock be serviced by the stranger.
Today it was no different, Trey did his usual job and made Jimmy roll his eyes from intense pleasure. Jimmy blew a big load and I'd say he enjoyed the blowjob just as we did.
Short preview video: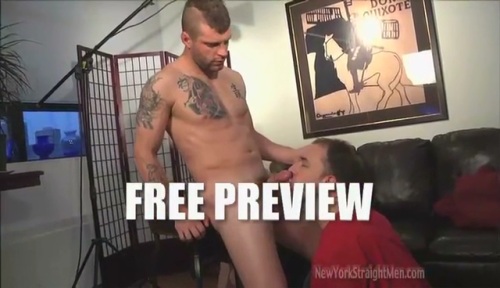 Click here to watch his entire video in perfect HD quality at
New York Straight Men!
New York Straight Men is the world's biggest collection of straight men getting their blowjobs from gay dudes! These men are usually truly straight but they love getting head from a gay guy because it feels so much better than whatever their girlfriends can do. These men are not the Hollywood type cuties, they are Real Men!