On Sunday our old Italian friend Tony sent us a text message which read something like "Do you have a cocksucker around? I need a blowjob today!"
We replied that our cocksucker was just servicing a guy at the moment. He texted back "Don't let the cocksucker leave, cause I want that head today!"
The cocksucker Trey was more than happy to wait for Tony because Tony's cock is one of a kind: big, thick and as stiff as they come! Furthermore, Tony is such a handsome and manly straight man that it's always a pleasure to service him.
Since it was Sunday he had a day off in his family Pizzeria, and managed to come in just 30 minutes. As soon as he arrived he dropped his pants and let cocksucker Trey get to work.
He told us he got a blowjob from a girl several days ago, but it was such a pathetic blowjob that he wanted someone more skilled to blow him so that he could forget that girl's fiasco as soon as possible.
Tony says that it's a pity because that girl is really hot and nice, but if she can't suck cock as it's supposed to be sucked, then he won't waste his time on her.
Of course, Trey managed to be up to the task today and Tony's faith in blowjobs has been restored!
Check out how he got blown, while rolling his eyes and shivering all over his very hairy body.
Short preview video: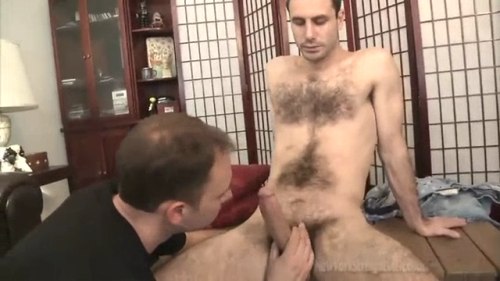 Click here to watch his entire video in perfect HD quality at New York Straight Men!
New York Straight Men is the world's biggest collection of straight men getting their blowjobs from gay dudes! These men are usually truly straight but they love getting head from a gay guy because it feels so much better than whatever their girlfriends can do. These men are not the Hollywood type cuties, they are Real Men!