Master Nick and Master Toby are interrogating a suspicious dude called Copper. Suddenly Master Nick gets a boner and his colleague Master Toby thinks the best solution is to force Copper to take care of his buddy's dick.
So Toby actually forces the submissive dude down by his shoulders until his colleague Nick's boner penetrates deep into his ass. Nick's dick is pretty thick so this penetration caused Copper a lot of pain. But make no mistake, he is such a slutty and willing sub and he enjoys every minute of this.
The nasty policemen have their way with Copper until Master Toby shoots a huge load of cum very near Copper's mouth. Meanwhile Nick aimed better and hit the sub's face right on. The sub doesn't want any of this police sperm to get wasted so he slurps it all up and swallows their precious man juice.
Short preview video: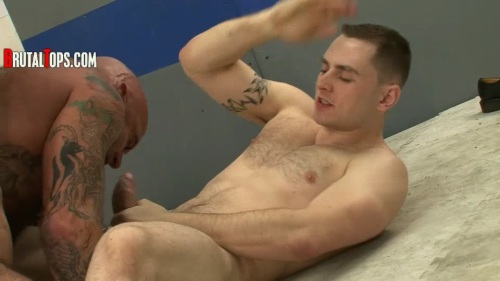 Download this and many other horny new BDSM videos at BrutalTops!
Brutal Tops is a fantastic site for lovers of the most ferocious sexually aggressive doms in the world. These dominant men love to give orders which have to be obeyed!