by Ben Daniels (Admin) on Feb.06, 2014, under CFNM
We continue the story about two hot straight guys, Shamus and Ryan. If you remember the previous episodes (here and here), they were caught by Shamus' girlfriend while shamelessly boasting about their alleged sexual adventures. Obviously, the girls didn't like what they were hearing and decided to punish the lads with the only just punishment for this kind of transgression – stripping them naked and inspecting their masculine bodies.
The guys are now fully naked and the girls' hands are all over their bodies, touching them, commenting and even comparing and measuring their soft cocks. The girls are very inquisitive and want to know who has the bigger one. The guys are somewhat surprised by the girls' inquisitiveness and pushiness, but decide to yield to their demands nevertheless.
What the guys don't know, and don't even suspect, is that the girls are bent on revenge. What begins as light teasing and fooling around will soon turn into thorough humiliation so that the men remember this lesson for a very long time.
Click here to watch their whole video in HD quality at CFNM (Clothed Female/Nude Male)!
Clothed Female Naked Male (CFNM) is a very hot site for lovers of truly straight guys. It's a little tongue in cheek but the men are fuckingly hot!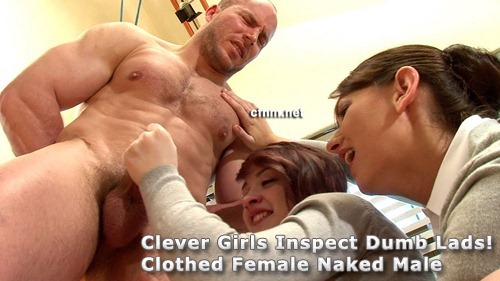 :angry girlfriends, boastful boyfriends, female domination, humiliation, inspecting penis, naked guys, punishment, Ryan, Shamus, stripping down