Straight guys may be easily made to fuck gay guys for enough cash, but making them kiss a guy is usually a lot harder. Polish extra-hung stud Justin was a hard nut to crack when it comes to kissing guys, but he finally relented. And Victor says it was worth every second of it!
It seems that Justin has a thing for fist fights – he got into one of those fights again, and lost a tooth! The funny thing is that Justin is usually very easy-going with men and he treats women very nicely. A smooth operator, you could say for sure. But when it comes to guys in a bar, it often happens that he gets into fights because the men see this tall handsome man as a kind of competition. And with a good reason – Justin is a real man's man, very strong and aggressive when it comes to sex. But what they don't know is what a gorgeous big missile he's hiding in his pants! Thankfully, we can enjoy that beauty as well!
So, after some brief chat Victor gets straight to business. He kneels down, like any true cocksucker should do, and whips out Justin's magnificent cock! Justin seemed to be very eager to get his big cock serviced, perhaps he was not getting enough sex as usual because of the pandemic. Be that as it may, his cock was up and ready in no time!
Victor wanted to reprise his action that he had in the bathroom with Beefcake Christian, but unfortunately he had one too many glasses of whiskey already, so it didn't come out quite as good as he was expecting it. Justin saved the day, anyway, and it was all good.
Then they went to the bed and just before Victor finally kissed Justin, Victor got on side so that Justin could fuck him in that side-splitting position. Victor swears it was one of the best and most mind-blowing fuck sessions he has ever experienced. It was a good way to prepare Justin for the big kiss, so to speak. Of course, it didn't happen without resistance. Justin was reluctant in the beginning, and didn't want to give Victor a kiss, but eventually it did happen. Please watch the entire video to see the big moment when this big straight guy finally gives Victor a kiss!
Then, Victor stroked Justin's huge cock until he made him shoot his load. Victor thought that it would need a lot of cock stroking action to get him off, but it turned out he was already quite close to cumming!
Preview video: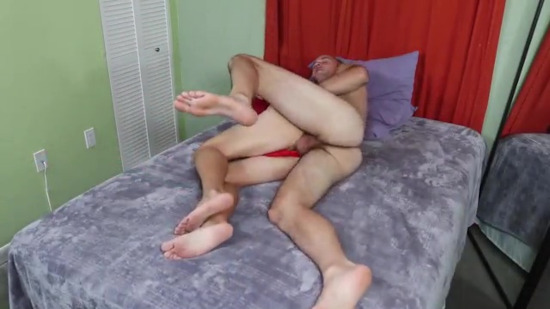 Click here to watch or download their entire video in HD quality at BeefCakeHunter.