Perhaps the first thing that you'll notice on this guy, as far as his outward appearance goes, are his massive, big arms! And sure enough, they received their due treatment from Victor. But Douglas has many other qualities and things about him that need to be worshiped… such as his amazing big and thick cock!
Beefcake Douglas works as a construction worker, and Victor had been trying to get him to his studio for quite some time. The deciding factor in Douglas' case was his girlfriend, who managed to convince him that appearing on such a site with primarily gay male audience would be a good thing, and that she would be proud of him. Even with his girlfriend's blessings, Douglas appeared to be a little nervous, at least in the beginning. Even Douglas himself wasn't really satisfied with his own performance, but then he decided to give his best shot and really get into this thing. We're not sure if it was because of his girlfriend or because he wanted to please his future fans, but whatever may be the case, it went very well from that point on!
In this video there are some techniques that Victor used which are not quite usual for most of his other videos. Things like two scenes joined and similar stuff. The edited out scenes might end up in some extra feature film that will be made in the future. "Beefcakehunter Mysteries", perhaps?
But all that is not so important, because here we have one really explosive blowjob with a gorgeous, muscular construction worker! Ginger men lovers will definitely dig Douglas. His body is astonishingly well-built, with just the right amount of muscles and beef. Douglas was a little surprised when Victor began to kiss his massive arms. He didn't know that those arms are a big turn on.
It's no wonder that Victor describes his experience of sucking this man's cock while on his knees as a kind of Heaven. Victor really enjoyed (or, more likely, was in the state of ecstasy) while he munched all over that huge stiff dick. Victor devoted due attention to Douglas' massive muscular legs, as well. Douglas' balls are also pretty big and delicious, but he is sensitive in that area so Victor couldn't play with them too much.
The big finale happened while Douglas was sitting on the couch, and Victor's relentless sucking brought him to the point of no return. And it was a long and an intense orgasm. There's no denying that this man is a real sex machine!
Preview video: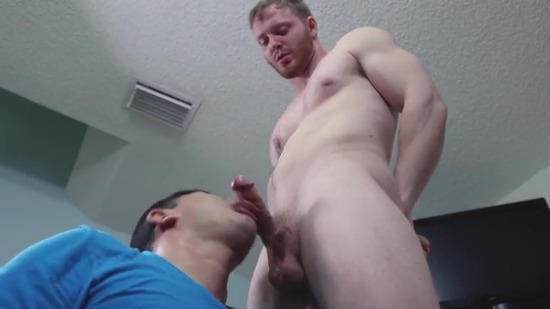 Click here to watch or download their entire video in HD quality at BeefCakeHunter.