Grayson is a hot All American basketball jock, and a proud dad of three kids. He says that every time when he was in the locker room or shower in high school, rarely anyone of the other boys dared to be with him, because of the size of his cock. It seems that his 8 inch dick looked intimidating to his school buddies, or maybe they had an inferiority complex when they were with him naked. That's when Grayson first realized that he had a big cock.
Grayson is 26 years old, he's 5'11 tall and he weighs in at about 190 lb. This hot Babyface Jock is definitely not shy about showing off his body for the world, including his wide open gaping hole with a rather deep red anal interior! He kept mooning us with his gaping open ass many times throughout the entire shoot of this video. Then he further explains that he works as a stripper at night, which he does after he finishes his day job. And his day job is to tend horses in stables, Grayson explains with a big smile on his face
Grayson was very eager to tell us as many personal and private stories about his real life as he could, including the explanation of each of his tattoos on his thick smooth body. Then he told us about his adventures in hiking, mudding and why he loves horses. This is his first time to shoot a jerk off video for any porn site.
Grayson came in his tight Western jeans, and immediately started to take off piece by piece of his clothes. The camera focuses first on his face, then we get to watch close ups of his smooth pecks and big powerful biceps as he flexes them. After that we get a really good look at his big hairy ass while he does the chores as it is usually the case on Island Studs. The whole thing takes place beside the forest. We get to see his hairy asshole many times? such as when he repeatedly bends over to pick up leaves from the deck, and the camera focuses all on his ass.
At the same time his large hairy balls and huge dick keep dangling between his muscular thighs while he works the chores that he has been given, such as sweeping leaves off of the deck on a cloudy winter day. To show us his playful side, our daddy Grayson kneels on the deck and crawls around like a puppy with his big muscular butt in the air, at times he pauses briefly to show us how wide he can open his hole!
Grayson's sexual nudist house boy work was such a joy to watch. Then we get to see his pissing session, and after that it's time for the main course of the day – hardcore jerk off session! He finds a nice chair outside, puts some lube on his thick 8 in cock, and starts stroking it. This Horseman and muscle jock stripper likes to manhandle his big balls and his cock, all the while talking straight into the camera.
It was great to watch a real father of three manhandling his dick on camera for the first time. As you can imagine, his thick creamy cumshot is a special treat to watch.
Several big streams of hot baby batter are released from his 8 inch cock. Then we have the shower seen, which is a must watch for every lover of big butts. Grayson obviously has an exhibitionist streak because he really enjoyed showing off his big ass and his gaping hole. All in all it was really hot and entertaining to watch this hot muscular jock and Horseman showing off for the camera!
Preview video: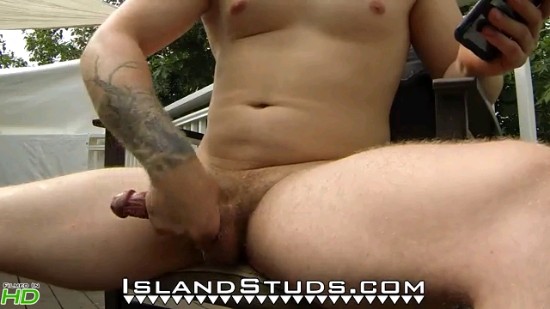 Click here to watch their entire movie in HD quality at Island Studs!
Island Studs is a great, new, and refreshing porn site that features hot guys from Hawaii. These bad boys have no problem with showing off their beautiful, toned body and hard cock. Watch them as they do their usual chores against the stunning backdrop of Hawaiian nature!