You probably remember from Seb's previous appearances that he is actually Keumgay director's neighbor. Recently he decided to get back into porn again, and contacted the Keumgay director. You can read all the details about this in this post.
Seb arrived to the Keumgay headquarters, and he thought that he would be doing only a shower scene with some jerking off. However, the Keumgay pervy assistant suddenly came into the bathroom and offered Seb his big fat cock to suck!
Seb was somewhat reluctant to suck cock again, but the pervy assistant was insistent on being serviced. So finally Seb relented and started to suck the assistant's huge fat cock!
Perhaps against his conscious will, Seb nevertheless became aroused while sucking the assistant's cock, as evidenced by the fact that his own cock became hard and stiff as well.
Preview video: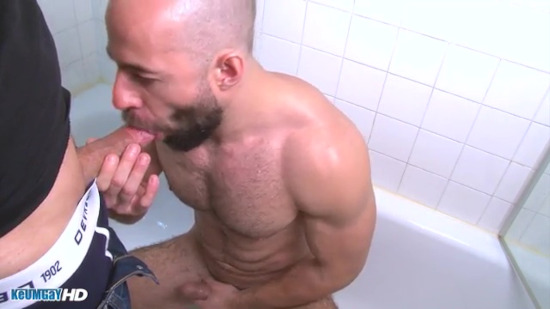 Click here to watch or download their entire video in HD quality at Keumgay.