by Ben Daniels (Admin) on Jul.06, 2012, under Brutal Tops
In this episode two thugs – Master Terry and young sexy Billy – join forces in an attempt to hook naïve unsuspecting customers.
As soon as the victim (handsome submissive guy) appears on the entrance door, the Masters take all his money and force him to drink Billy's strong urine. Then they both lay on him as if he were a carpet. They taunt him and completely cover his face with their big manly feet. The poor sub is forced to obey any outrageous request that the Masters make.
When the sub is completely subjugated, the two Masters begin to kiss each other to signify a work well done. They look pretty hot with their hot and beautifully muscled bodies, with the lowly sub below them.
Short preview video:


Get the latest Flash Player to see this player.
Download this and many other horny new BDSM videos at BrutalTops!
Brutal Tops is a fantastic site for lovers of the most ferocious sexually aggressive doms in the world. These dominant men love to give orders which have to be obeyed!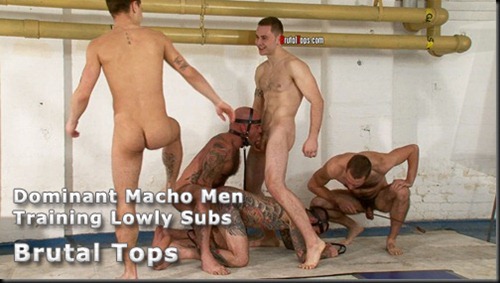 :Big Chest, Big feet, Billy, domination, drinking urine, foot domination, masculine, Master Terry, muscled, submission, tattoos, wife-beater shirt