by Ben Daniels (Admin) on Sep.28, 2012, under Brutal Tops
The troubles are far from over for the slutty sub Martin. He duped the two horny sailors into believing that he was a woman but when the sailors found out he was a little lowly sub they decided to teach him a lesson or two.
Sailors Derek and Nick are horny as hell, as you would expect sailors to be after many weeks at sea and no pussy. Now they have their hands on Martin and they will turn him into their little slutty bitch.
The sailors crop Martin's ass until it glows red, then they urinate into his mouth, essentially using him as a urinal. Then the Cruel Masters force Martin to lick their feet and lick clean their spilt piss from their feet. Next are their stinky sailor's boots. Martin is allowed only to use his tongue.
Derek is totally sweaty as he hasn't taken a shower today. He forces Martin to sniff his sweaty body and then spreads his own ass cheeks and orders Martin to plunge his face deep inside to lick it clean.
The sailors got pretty horny while playing with Martin, and as soon as they ordered him to suck their cocks, they got very strong erections. Martin almost cries and tears are running down his face while the brutal masters fuck his face and shove their cocks deep inside his throat. That's the price he had to pay for misrepresenting himself as a whore.
Preview video:

Download this and many other horny new BDSM videos at BrutalTops!
Brutal Tops is a fantastic site for lovers of the most ferocious sexually aggressive doms in the world. These dominant men love to give orders which have to be obeyed!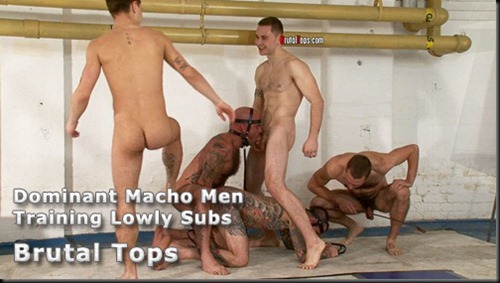 :big dicks, feet servicing, golden showers, hairy chest, humiliation, licking armpits, masculine, Master Derek, Nick Cheney, perfect chest, pissing, sailor's uniform, sailors, spitroasting, submission, submissive bottom