Tag: Lucas Weston
by Ben Daniels (Admin) on Jun.21, 2013, under BaitBuddies
We've already seen big, beefy and very confident Lucas Weston when he fucked Brandon Bael raw and bred his straight ass leaving a wonderful creampie. You can read more about that here.
This time round Lucas Weston was really expecting that he'd fuck some chicks with Rex Wolfe, but, as it's always the case with Bait Buddies, it turns out that the chick didn't come. But what the hell, he can fuck his buddy Rex. However, more on that in a minute.
Lucas hails from Nashville, he plays guitar and even sings. He admits it's mostly to impress the girls and he swears that it's a fantastic lure for getting them into bed. Damn, what these straight men have to do to get someone into bed, things are so much simpler with guys, don't ya think
Lucas is one of those guys next door who you can't stop thinking about, and you're always turned on by him whenever you start thinking about the size of his cock. Is it huge, average or small. Nah. small it can't be, he's such a stud.
Anyway, we called our old bait boy Rex Wolfe who has a special penchant for young straight boys, just the likes of Lucas. Rex has helped us many times before with hot and hung straight guys. Who can forget his masterful handling of all those big straight cocks in the past. Rex himself is very hung. With almost 9 inches (23 cm) he is certainly a big boy.
Lucas Weston's cock measures about 8 inches (20 cm) and so far it has been used mostly to plow pussies. Today he was convinced that he'd be fucking a girl but things changed a bit and he ended up fucking Rex. Rex was so turned on by Lucas and his aggressive fucking that actually Lucas managed to fuck the cum out of Rex, something that doesn't happen that often.
So, I tell the boys to get naked and hard. As soon as they did that, I went to another room to get the girl. While I was away Rex used the opportunity to chat up with Lucas and make him horny by discussing the straight porno that was on the video. When I got back, I deliver the unpleasant news that the girl won't be coming, and that the only way the boys cam earn money is to fuck each other.
Lucas got angry and wanted to leave, probably to defend his "straightness", but I again mention how much more money they could make if they fuck each other instead of the girl. Even if he's a straight motherfucker, Lucas is still a laid-back and easy-going dude and soon enough he calms down. Then he said he wanted to tell us something he kept as a secret for so many years: when he was just into the puberty he used to suck his own cock (wow, I'd love to see that!).
Lucas starts sucking on Rex's huge pole and gives him a decent blowjob. Rex loved every minute of it. Then Rex returns the favor and sucks this straight boy's hard dick.
Lucas started to fuck Rex and if Rex had thought that Lucas would be gentle, he was wrong! Lucas fucked Rex as if Rex was some girl with a pussy, he wasn't gentle at all. However, after the initial shock, Rex quickly recovers and starts enjoying this hard pounding.
Then, Rex lies on his back and wants to simulate the missionary pose that women usually take with their man. This caused Lucas to become even more aggressive and within several minutes he fucked the cum out of Rex which shot with such force that it spunked Rex's entire chest and some of the squirts went all the way to the couch behind them.
Lucas pulled out and removed his rubber. He later told us that that's the way he likes to cum when he's fucking his girls too. Lucas says he also likes the feeling when his balls are hitting the pussy and make that splashing subdued sound. He jerks off and shoots his load all over Rex, who, as a result of this remained completely covered in messy cum.
After the fucking was over, I told them to go to the bathroom and take a shower together.
Preview video:


Click here to watch their complete video in HD quality at Bait Buddies!
Bait Buddies is a pretty hot straight guy site with plenty of updates and some very hot guys indeed. There is always a "bait" dude who is bi or gay, and a straight (or sometimes "straight") dude who needs to be seduced into gay sex.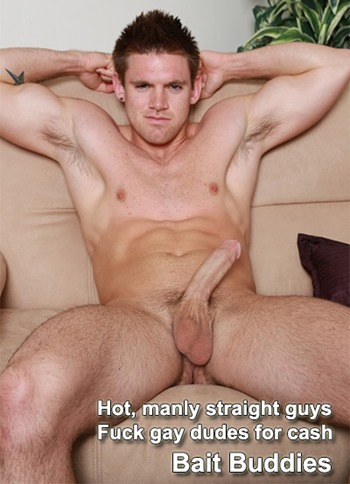 Leave a Comment
:aggressive tops, big cock, blowjob, fuck the cum out, fucking, hairy chest, handsome, Lucas Weston, Rex Wolfe, straight guys, straight to gay
Click For More...
by Ben Daniels (Admin) on Apr.18, 2013, under Broke Straight Boys
This pairing was extremely hot, funny and kinda odd all at the same time! We have two truly straight boys, Lucas Weston and Brandon Beal. Brandon fucked many a boy's ass so far, but this time round it's his turn to offer his ass for some hard drilling.
His partner who is supposed to fuck him is Lucas Weston, a very hot tempered and hot bodied straight boy. He was frank about his distaste for guy's ass and the idea of having to fuck an anal opening. He told to the cameraman:
"I really hate the idea of fucking a guy's asshole. I don't like it."
"You'll manage. You'll manage," his partner Brandon tries to encourage him, with a certain sense of sympathy for the fellow straight buddy.
Lucas is adamant about not liking to fuck a man's ass, though. He insists it's a gay thing:
"I feel like I'm gay or something doing that"
Then Lucas explains what he intends to do with the money. His nasty father didn't like the idea of his son playing in gay porn flicks and told him many unpleasant things. "He called me a faggot and hoped I died of AIDS ridden faggot." Damn! Where's fatherly love – gone with the wind?
"A loving father," Brandon commented.
Anyway, Lucas will be able to pay his own bills and rent a house with this money from making porn movies, so his father won't be able to torture him anymore.
I uttered a sigh of relief when the boys finally started to jump onto each other. They quickly got rid of the boxers and Lucas starts to suck Brandon's cock. Considering the fact that he hates doing anything with dudes, this was an outstanding performance. A man's gotta do what a man's gotta do!
Brandon encourages his lover to slobber all over it, and give it a got spit. Lucas obeys and even tries to deepthroat Brandon's dick, gagging in the process. However his dick remained hard as rock during this whole cocksucking ordeal, which is something that even professional gay cocksuckers can't always manage to achieve. Ah youth, and youthful strong erections!
Lucas starts to complain about his mouth being all sore from Brandon's dick being pushed in all of its corners, and Brandon takes pity on him and wants to return the favor. He is more experienced than Lucas in cocksucking and shows him the way how to deepthroat a big cock without gagging (without bitching about it!).
Lucas is now less forgiving and begins to groan and moan. "Fucking take it!" he yells.
Brandon spat a large volume of his spit onto Lucas' huge fuck stick and continues to suck Lucas' cock like a pro. When I asked Lucas how it feels to have a dude suck his cock, he says:
"It's intense. It's really fucking intense." (his toes are curling)
"I wouldn't call it good. It's a little bit too strong." – Utter rubbish, we all know he liked it, just doesn't want to admit it. Hetero-macho horseshit feigning of not feeling intense pleasure just to avoid being labeled "gay" by someone.
And now it's time for the moment of truth. How will Brandon receive this big straight cock? And more importantly, how will Lucas fuck his first guy?
My worries disappeared the same moment when Lucas ordered Brandon to get on all fours and Lucas penetrates him totally raw (bareback) and shoves his entire cock, balls deep. Brandon takes it like a man and puts his face in the bed sheets. As Lucas thrusts violently, Brandon's cheeks vibrate from the thrusts. Priceless.
Brandon is now hornier than ever and wants to be fucked really hard. He tells Lucas "Fuck my asshole!"
Lucas spanks his ass and fucks him even harder. Brandon is gasping for air and moaning like a girl that is getting plowed for the first time. Lucas is obviously a very aggressive top and Brandon is taking it all.
Now Brandon lies on his back and puts his muscled legs in the air. Lucas fucks him in that position, and then increases the pace. At the same time Brandon is wanking his cock like a madman and squirts his jizz all over his belly. Lucas continues to fuck him some more, and seeds his ass, making a great creampie. Then Lucas says "Get your fucking ass out of my face!"
The pictures don't do this fuck scene justice – please at least watch the preview video, to get a feel of the action.
Preview video:


Click here to download their entire videos in perfect HD quality at Broke Straight Boys!
Broke Straight Boys is one of the classic straight boy sites that features hot straight and bisexual guys who are ready to sacrifice their hetero reputation and straight virgin ass and engage in some hot and nasty hardcore fucking. New movies have totally new guys which look awesome!

Leave a Comment
:aggressive tops, bareback fucking, big dick, blowjob, Brandon Beal, creampie, fit body, gay for pay, Lucas Weston, raw anal, seeding ass, sperm, straight guys, young dudes
Click For More...