Our stable of dominant men has just been expanded by newcomer Martin. Martin had an indelible impression on us this first time, since he proved to be a true Brutal Master, the kind that we want. He used the bottom's tongue to clean up his dirty army boots. Sometimes he forced the poor bottom boy to lick his sweaty armpits. But this all was only a sign of what was about to come.
Martin has a secret little weapon, just designed to maximally humiliate the lowly subservient men – ashtray. Namely Martin uses the bottom's tongue as an ashtray. He blows the smoke in it and puffs his fag in it. The bottom is made to wait for any time the master pleases, pretending to be a puppy. We see the sight of the Top gobbing and ashing his cigarette into the sub's fully open mouth – he uses him as an ashtray. No more no less. You just gotta love it, cause it's so fucking great – to put the sub at his place without actually causing any real harm. When his cig is finished, the Master stubs it out in his ashtray boy.
Preview video: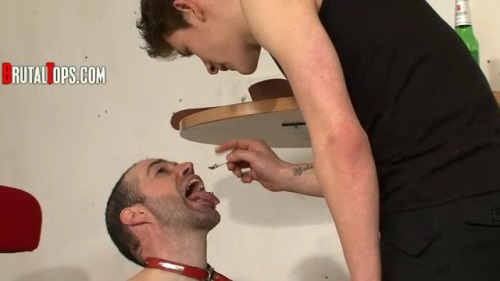 Download this one and many other horny new BDSM videos at BrutalTops!
Brutal Tops is a fantastic site for lovers of the most ferocious sexually aggressive doms in the world. These dominant men love to give orders which have to be obeyed!